NEW BRAUNFELS, TX – Restoring Mobility has seen steady growth in recent years, relying primarily on lift chairs, rollators, vehicle lifts, and other cash items. With one service/repair location and another 2,400-sq-ft shop devoted to sales, owner Jeff Crouch (pictured here at Medtrade Spring 2018) is cautiously optimistic that sales will continue in a positive direction.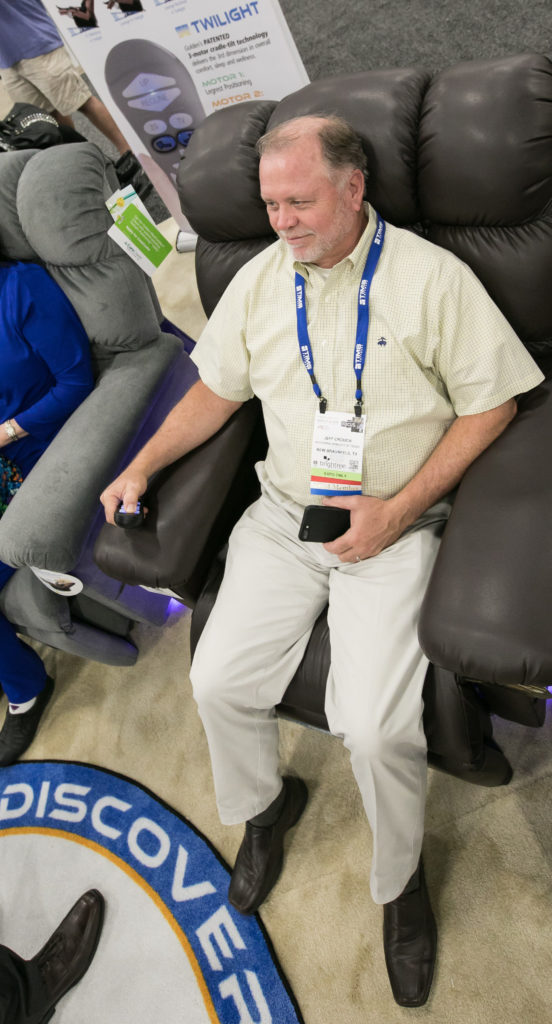 The caution stems from competitive bidding's 2019 rule that allows any willing provider to participate in the program who abides by the existing rates. "As a cash provider, we don't know how that will affect us," says Luann Schroder, director of Marketing. "The optimism comes from the baby boomers who are going to need our products."
Most of the lift chairs sold at the cash-only shop are from Golden Technologies, a company Crouch has relied on for many years. "The Golden chair is easy to get parts for, and it's easy to do service for those chairs," he says. "The operation, design, and innovation from Golden really shows that they are looking out for customers. The fact that the chairs are made in the U.S.A. is something our customers also appreciate."
Crouch and Schroder have been to two Medtrade Springs (Las Vegas) and two Medtrades (Atlanta), and they are pondering travel plans again in 2019. "The training at educational sessions is phenomenal," Schroder says. "On the show floor, we learn about new products, talk with exhibitors, and ask lots of questions. Unfortunately, at last year's Medtrade Spring there were too many exhibitors breaking down their booths early on the final day—before the official close of the Expo hall. They missed out on our business."
Being able to see products in person, work with them, and figure out how to sell them are all reasons that Crouch and Schroder are willing to spend the time and money to travel to Medtrade Spring (April 16-18, 2019, at the Mandalay Bay Convention Center in Las Vegas) and Medtrade (Oct 21-23, 2019, at the Georgia World Congress Center in Atlanta).
They make a point to visit certain exhibitors and presenters, and to seek out a few new ones. "I go to Mike Sperduti's presentation every time," Schroder says. "Between Sperduti, the educational sessions, and the exhibitors, I come back to the office so pumped up."