OLD FORGE, PA – Medtrade attendees who visited the Golden Technologies booth earlier this year in Dallas found a massive selection of power lift recliners, power wheelchairs, and mobility scooters. While several familiar product lines garnered a lot of attention, providers looking for lift chairs found the PR504 Regal Power Lift Recliner particularly intriguing.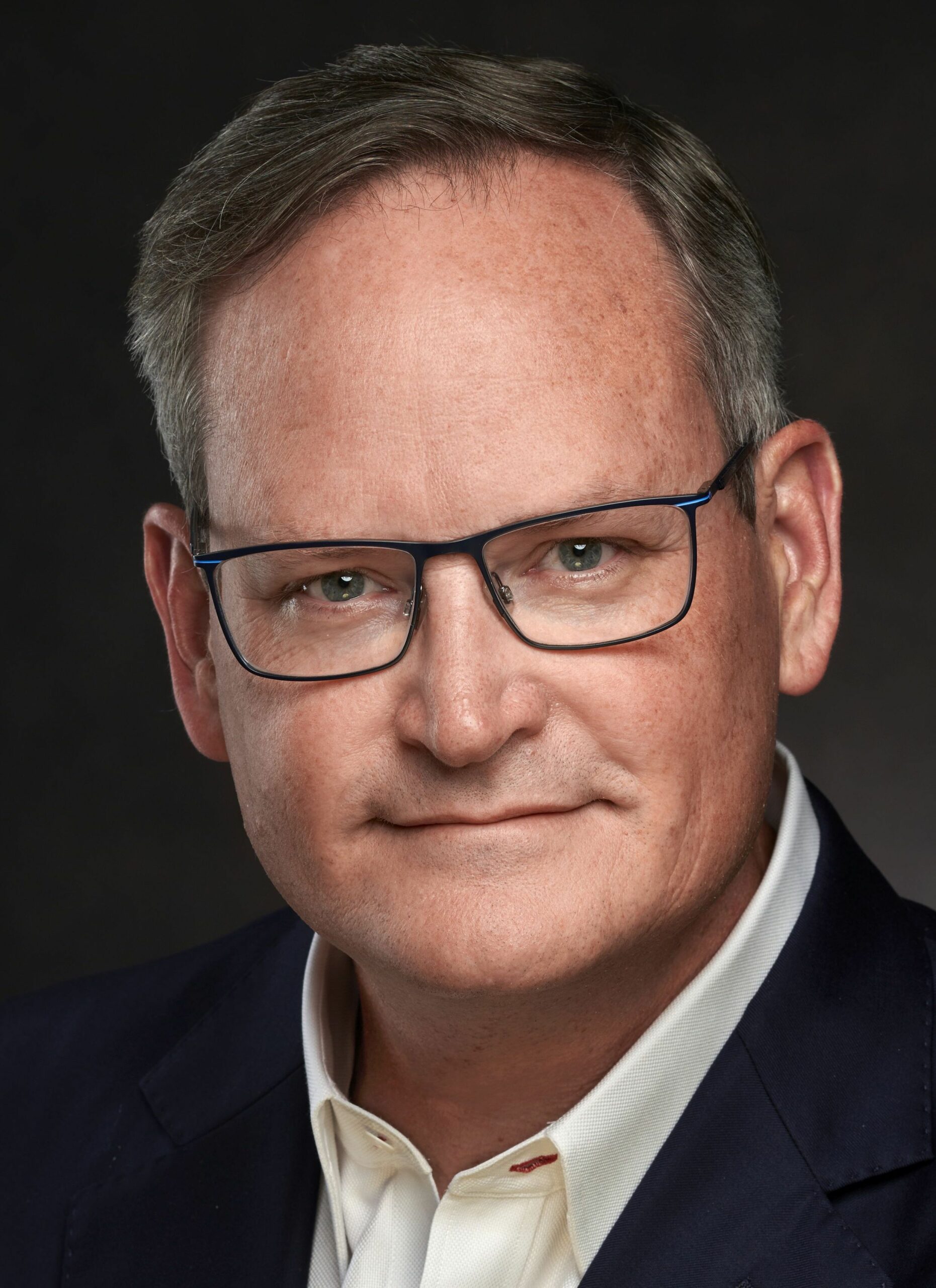 C.J. Copley (pictured), executive vice president for Old Forge, Pa-based Golden Technologies chatted with many attendees about the PR504. Medtrade Monday sat down with Copley to learn more about the recliner (and other products) and why it made such a splash among attendees at the first-ever Medtrade in Dallas.
Greg Thompson, editor of Medtrade Monday: How would you describe the reaction to the PR504 Regal Power Lift Recliner?
C.J. Copley, executive vice president, Golden Technologies: The new Regal power lift recliner was well received by our retailers. Some of them may remember the old Regal model. The new PR504 is a reimagined version with incredible comfort features only Golden can offer. It has a modern top load, open-arm design with a bit of a higher back for taller people to enjoy. Our retailers were enthusiastic about the opportunity for a new merchandising strategy with the Regal power lift recliner.
Thompson: What did attendees like about it the most?
Copley: The Regal has more bells and whistles than any other power lift recliner on the market. Retailers like the top load, open-arm design because you can easily access items in the compartments while reclining in the chair. They like the special no-spill cup holder which keeps beverages level while in motion using the lifted position and that the cup holder and the removable table could be used while still enjoying the comfort of the armrests. Retailers love that the Regal is available in our luxurious Brisa® breathable fabric and any other custom fabric. They are also very enthusiastic about our new HeatWave™ technology featured on it which provides therapeutic full-body warmth for added comfort.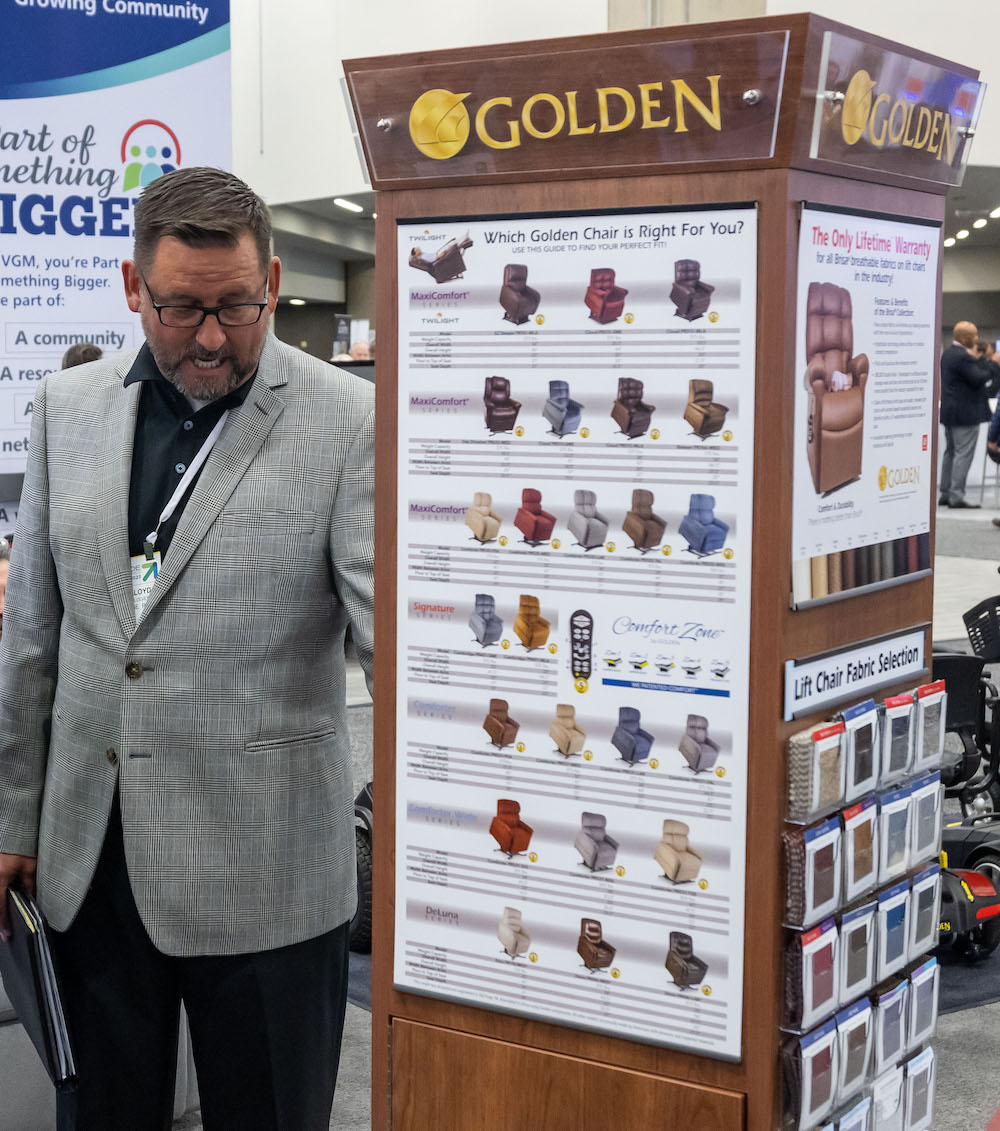 Thompson: What other products received a good response?
Copley: Golden recently launched two new lightweight foldable power wheelchairs, further expanding our current line of mobility products. They are two of the hottest-selling power chairs on the market due to their incredible portability and transportability.
We showcased our new GP302 Cricket crafted with a 100% carbon fiber frame – the lightest power wheelchair on the market at 33 lbs. with a weight capacity of 300 lbs. We've had a great response with the Cricket and more are shipping this month. The GP301 Stride is a sporty, very lightweight, folding power wheelchair with an aluminum frame. Golden retailers are already experiencing great success with the GP301 Stride aluminum folding power wheelchair and the GP302 Cricket carbon fiber folding power wheelchair.
Thompson: What is your opinion of Medtrade becoming an annual event and moving to Dallas?
Copley: We are happy that the show will be held once per year now. We aim to lead our retailers to more education that will help them succeed. Nothing replaces the experience of the face-to-face interaction gained by attending a show. Retailers can focus on attending with their teams knowing that manufacturers are putting their all into making the show a huge success and bringing the most recent innovative products to showcase. We also like the move to Dallas. We found the city fun to be in and easy to navigate. The people are friendly, plus the new venue for the show itself is outstanding.
Thompson: What is your level of optimism these days about the future of the HME industry and why do you feel that way?
Copley: Golden is very optimistic about the future of the industry. For the first time in a long time, retail and Medicare are divided. More HME retailers are going 100% retail now, more than ever. They are enthusiastic about selling any products they want and making a good profit margin. Their optimism comes from having the freedom and independence to floor products of their choosing. This feeling of independence aligns with the vision of cash retail sales that Golden has adopted for many years. We hope to remain part of that with all our retailers.
Thompson: What's your level of optimism for Golden?
Copley: We also look toward the future of Golden. We now have not one or two, but three third-generation Golden family members on the team. Alyssa Golden is our digital marketing manager, Rich Golden, Jr. is our cost accountant, and Mike Golden recently joined us as associate product manager in our R&D Department. As a family-owned and operated business that has been at the forefront of innovation and technology producing power lift recliners, scooters, and power wheelchairs for over 35 years, I can tell you that Golden is here to stay.
Thanks to the support of our thousands of retailers across the country, including our exclusive flagship retailers, we are poised to help more Americans maintain their independence and enjoy a new level of comfort with our unique designs and advanced technology than ever before. We're looking forward to seeing even more retailers at Medtrade 2024 in Dallas.