Educate your target audience
Get in front of buying power
90% of attendees play a role in purchasing process
Exhibit at the Largest Home Medical Equipment Tradeshow in the US
Medtrade brings together more HME providers under one roof than any other industry event in the US. Get in front of owners, executives, sales managers, and other decision-makers from HME companies, distributors/wholesalers, pharmacies, home health agencies, sleep centers, and more.
Over 90% of the attendees at Medtrade play a role in purchasing, making this tradeshow the most effective way to get in front of medical equipment, product, and service buyers.
Connect with HME Providers from Across the Country
The HME industry continues to change but one thing remains the same – the growing demand for the latest products and technology by HME providers and their patients/customers. At Medtrade, providers from across the US (with some international attendees from Canada, Mexico, China, France, Germany, and United Kingdom), will be actively seeking the newest HME products and services that best serve their customers' needs and their bottom line.
We asked Medtrade attendees to compare the influence of seeing a product at Medtrade versus other options (online, showrooms, etc), and every 2 out of 3 people said that seeing a product at the show was more influential. Don't miss out! Sign up to exhibit at Medtrade and get in front of these HME providers – showcase your company's products and services, improve your relationships with current customers, create new alliances and stay current on industry issues by upgrading to our exhibitor conference.
The Medtrade Audience Includes:
Home Medical Equipment providers
Specialty homecare providers
Home health agencies
Pharmacy-based and chain HME retailers
Distributors
In-Patient facilities
…all looking for the products and services offered by your company!
What can exhibiting at Medtrade do for you?
Be a part of the largest national home healthcare exposition in the US
Help you generate hundreds of highly qualified leads in just two days
Educate your target audience about the value of your products
Market your company to targeted audiences with buying power
Introduce and test new products and services
Maximize your marketing dollars and ROI
Reach your clients and prospects in new ways
Partner with industry leaders
Promote brand image and build public awareness
Set yourself apart from your competitors
Strengthen relationships with existing customers
Network with your peers
SELL your products!
We've been super busy all day long. It's been great and we're very happy. We've seen dealers from California to Canada. We've seen serious and eager dealers. We will be in Dallas next year. We wouldn't miss it.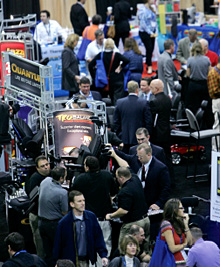 The show has been good. We've been able to meet people and ask questions in person. With face-to-face interaction, you can ask those follow-up questions and really start those deeper conversations.
Europe, Middle East, Africa
Frederic Lievens
3222698456
medtrade@skynet.be
South Korea
IPR Forum
Judy Kim
Seoul, Korea
8225517077
judy@ipr.co.kr
www.ipr.co.kr
Asia (including but not limited to Taiwan, China, Japan, Singapore, Australia)
Formosa Cultural Corporation
François Coutret, Vice-President
Taiwan Office 886282273347
China Office 862165217118
franck@fmh.com.tw