ATLANTA – Thinking of passing up the final day at Medtrade? Show organizers have $5,000 reasons you should reconsider. "The last educational session ends at 3:45 p.m.," says Kevin Gaffney. "After that, attendees can head to an end-of-show reception [sponsored by AAHomecare and PPM Fulfillment] with a chance to win $5,000."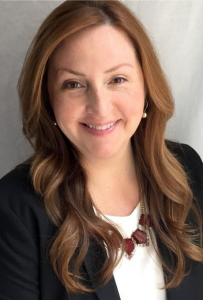 Beyond the financial incentive, it's also a chance to network and show your support for the exhibitors who shape the industry at HME's premiere trade show. "We ask that you build in time for the last day—Wednesday, Oct 25—when making your travel plans," adds Sarah Varner, marketing director. "The airport is not far from the Georgia World Congress Center, so attendees can head out on Wednesday night, or even Thursday morning, to ensure they make the most of their trip to Medtrade. If you take the time to attend, you should maximize the trip."
Only four weeks remain until Medtrade convenes Oct 23-25, 2017, at the Georgia World Congress Center in Atlanta. Medtrade is the Fall edition of the nation's premiere HME trade show. With discount pricing, providers can still save money over day-of-show rates. It's a wise investment, because the motivation, inspiration, and product ideas from Medtrade can lead to success.
Attendees asked for more "town hall" like sessions, fewer "lecture style" presentations, and more panel discussions (including competitors in some cases!). Organizers introduced the new format at Medtrade Spring 2017, and surveys came back overwhelmingly positive.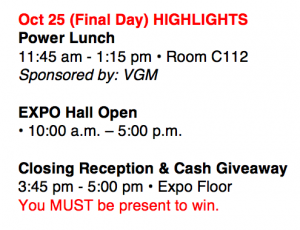 The Medtrade 2017 program will incorporate these changes and also have some sessions with a new seating arrangement to encourage more interaction and discussion among attendees. Conference sessions are open to attendees with a conference pass (not expo), unless the session is indicated as open to all.
Like last year, workshops and educational sessions will take place on Monday (Oct 23), with additional sessions on Tuesday (Oct 24) and Wednesday (Oct 25). Show floor hours will be 10:00 a.m. – 5:00 p.m. on Tuesday (Oct 24) and Wednesday (Oct 25).
The show will end Wednesday evening with a special event on the show floor designed to increase exhibitor/attendee engagement. "Providers should also know that Show Floor passes can be obtained for FREE," adds Gaffney. "All you need to do is call up an exhibitor (see list at medtrade.com) and ask. The Conference Pass, on the other hand, is available at Discount Rates until Oct 22. If you want to save money, it's the way to go."