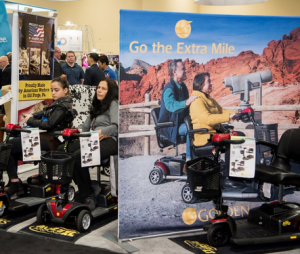 OLD FORGE, PA – Golden Technologies is changing the way retailers and consumers charge their scooter batteries to keep mobility at top speed with its innovative battery docking station that will greatly increase the ability to stay on the move.
The new accessory for the Buzzaround EX scooter models (GB118 and GB148) is portable and charges the interlocking U1 batteries. It offers a convenient way of keeping a set of charged batteries on hand, particularly when visiting family or friends, or at a vacation destination.
The battery docking station is a must for any Golden dealer that is renting scooters. It is the solution for always having charged batteries available, which allows for immediate turnaround time on a rental model or replacing dead batteries in the field.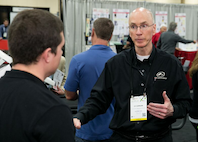 "Active users would welcome this accessory," said Cy Corgan (pictured, right), vice president of National Accounts. "They would always have a charged set of batteries at home, in the office, in a hotel room or kept in a vehicle for when they start running low on a charge and they still have an active day or evening ahead of them."
Visit with Golden Technologies' representatives at Medtrade, scheduled for Oct 23-25, 2017, at the Georgia World Congress Center in Atlanta.