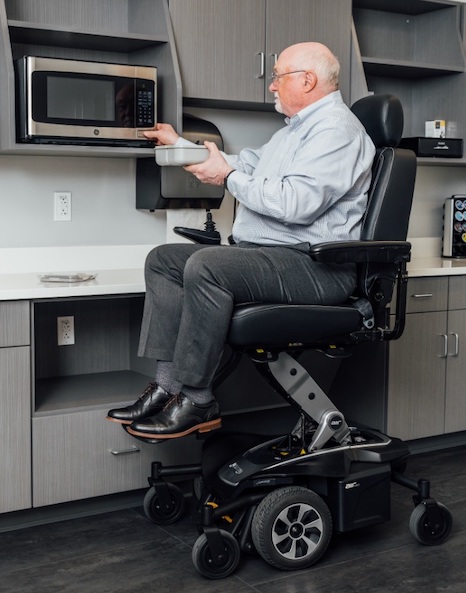 DURYEA, PA – Coming off the recent approval guidance for seat elevation on Group 2 Standard seat elevator power wheelchairs, Pride® Mobility has introduced the Jazzy Air® MED. The dynamic power chair is designed to meet needs for HCPCS codes K0830 and K0831, and to provide customers with a next-level mobility experience.
As a medical device that elevates up to 12 inches, this mid-wheel drive power chair allows countertops, bathroom sinks, and other surfaces to become more accessible. Users have increased ability to complete mobility-related activities of daily living, along with weight-bearing and non-weight bearing transfers.
According to a company press release, Active-Trac® Suspension with Mid-Wheel 6® technology offers a stable ride for users in both captain (K0831) and solid seat pan (K0830) seating. Users can drive up to 3.71 mph when fully elevated.
Official launch date was Nov. 20, 2023 and the product will begin shipping mid-December. Jazzy Air MED is available exclusively to authorized Pride providers with a dedicated brick-and-mortar location (showroom).
Pride Mobility will be showing off the Jazzy Air MED (and many other products) when Medtrade convenes March 26-28, 2024 at the Kay Bailey Hutchison Convention Center in Dallas.