LAS VEGAS – Medtrade Spring 2018 attendees voted on their favorite new products in the long-running New Product Pavilion Providers' Choice Awards, sponsored by HomeCare Magazine. In the first of three closer looks at the top three vote getters, Medtrade Monday starts with #1 (Gold), the Flyp Nebulizer by Convexity Scientific Inc. Flyp is described by company officials as a "game-changing, pocket-portable nebulizer" prescribed by physicians for respiratory conditions such as asthma and COPD. Use is as simple as fill, click, and breathe.
Medtrade Monday sat down with Convexity execs Jim Daniels, CEO, and Geoff Matous, chief commercial officer, to learn more about the product that bills itself as the smallest and lightest nebulizer.

Medtrade Monday: How did the product develop?
Jim Daniels, CEO: It started with the creator, Ralph Finger, M.D., an E.R. doctor who had a daughter with asthma, and his mother also had asthma. Dr. Finger is not one to sit around idly while the people he cares for are in need. He felt he could improve compliance for patients with asthmatic conditions, including his mother and daughter, by simplifying the device and making it truly portable, and making it so simple that a 6-year-old could treat herself. From drawings on a piece of paper, the Flyp was born.
Medtrade Monday: How does this nebulizer differentiate itself?
Geoff Matous, executive vice president, Sales: Flyp is a pocket portable, lithium ion, rechargeable nebulizer that delivers pocket-size portability and full-size effectiveness. One of the main differentiators is that Flyp is incredibly light, weighing less than four ounces, and can easily fit in a pocket. To date, based on our data, it is the smallest and lightest portable nebulizer currently cleared by the FDA. In delivering this pocket portability, it was important for us to not sacrifice effectiveness.
Some nebulizers that are called portable, you can take the pieces apart and put them in a case the size of a lunch box and carry it with you. Flyp is an all-in-one device that does not require removing of any parts, so you can put it in your pocket, take it out, and use it right away. That pocket portability is a distinctive point of differentiation over any other nebulizer on the market.
Medtrade Monday: What's your level of optimism these days?
Jim Daniels: We are very optimistic. We think that the nature of care is moving toward empowerment of patients. When there are devices like Flyp designed through the lens of the patient, not the lens of an engineer, we think interest goes up, compliance improves, and health benefits accrue to patients. Payors will see lower costs due to reduced emergency visits. This is a consumer-centric approach to the market, and we're excited about how we are positioned.
Medtrade Monday: How was your Medtrade Spring experience?
Matous: I saw the retail panel on the first day of Medtrade Spring, and it really opened my eyes when moderator Tom Ryan [president of AAHomecare] made a comment about how 53% of consumer spending is being driven by baby boomers and 80 million boomers are moving into this HME market in the future.
R.J. Poonawala made a great comment about segmenting good, better, and best and deciding to focus on better and best. That is where we are focusing in having the highest quality product, and aligning with the transformation toward consumerism in the health care and HME space. We are pricing this item, so that patients who choose to pay with cash will have a compelling value.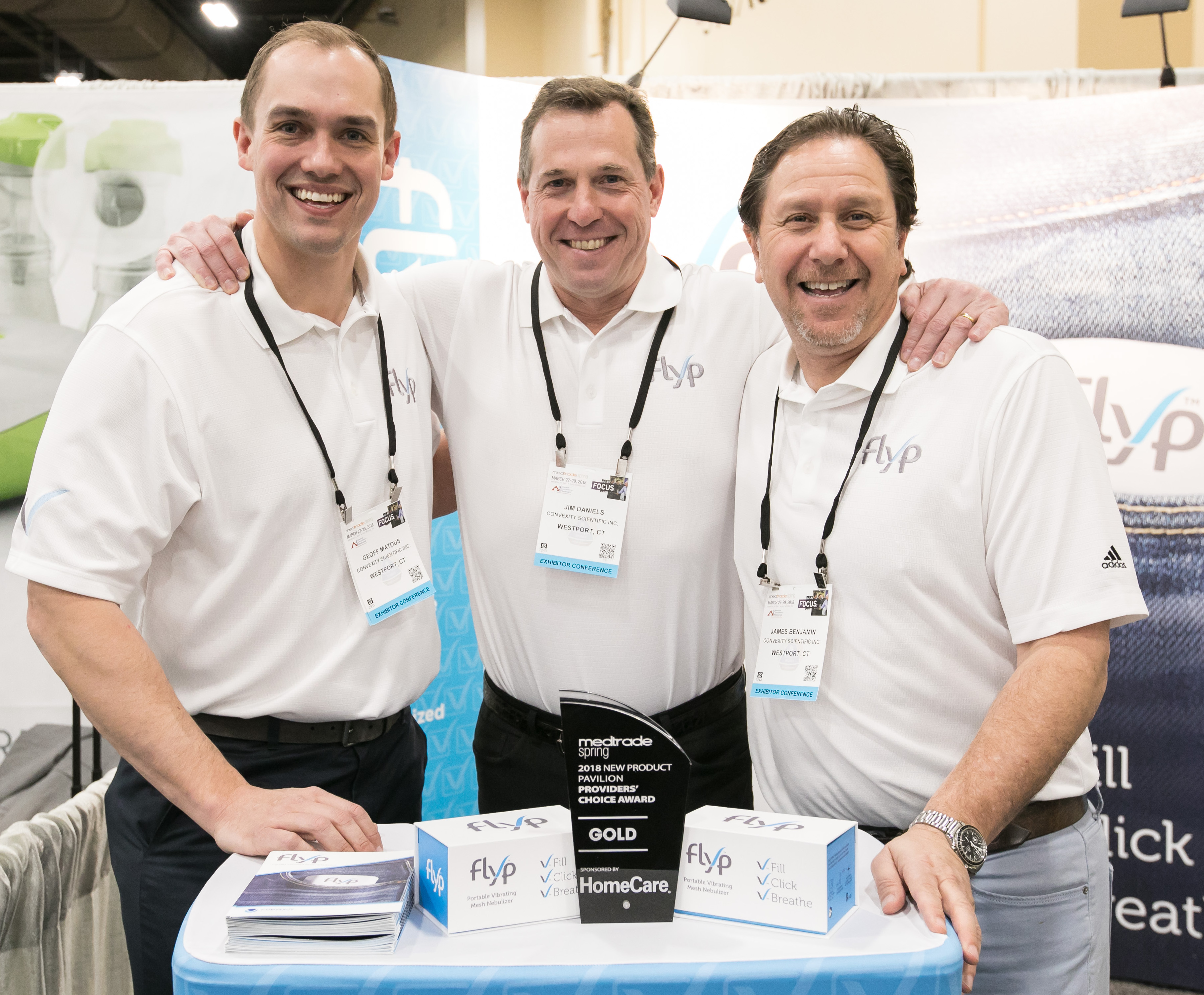 We are looking for high quality venues and associations that reflect the quality of our product, and we felt that Medtrade Spring delivered that in spades. We were thrilled with the professionalism of the organization and how well it was run. Everyone we dealt with was first class, and that's the kind of association we want to have for our company [Convexity] and our product, Flyp.
I've had experience at quite a few trade shows in the past, and I found the Medtrade Spring show to be one of the best. The audience was engaged with a good balance of content between the didactic and learning sessions and also finding a way to get attendees on to the exhibit floor, which tends to be a challenge at a lot of trade shows, so I give the organization kudos on that. Of course, the New Product Pavilion Providers' Choice Gold Award was a great vehicle for us to get the product out and drive awareness, and we are appreciative toward the providers who voted for us and made it possible for us to win the Gold.
Jim Daniels: At Medtrade Spring, we had a constant and steady flow of people coming through our booth. There were not long periods of quiet or overwhelming numbers coming in that prevented quality conversations. The quality of the attendees, the venue, and the timing and spacing was really well done. We will have another chance to see providers in the fall at Medtrade [Oct 15-17, 2018, at the Georgia World Congress Center in Atlanta] and we are doubling down by doubling our booth size for that show based on the feedback we received at Medtrade Spring.