ATLANTA – Compass Health Brands (Booth #1105 at Medtrade), a provider of medical devices used for homecare, rehabilitation, and pain management, has debuted a new brand awareness campaign, demonstrating the stark differences between Compass Health Brands and its competition.
The campaign is intended to further increase Compass Health's visibility among HME providers as a viable alternative supplier to other competitors in the marketplace. The three-page ad creative expresses the difference between Compass Health Brands and its competition in an attention-grabbing and relevant manner, while also driving maximum awareness of the company. With the ever-changing dynamics of the HME industry and increasing price pressures on HME Providers, Compass Health Brands aims to raise awareness about its offerings and how the company can better support and partner with providers.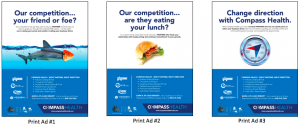 "Home medical equipment providers need a strong and credible partner to support them as they face significant challenges within the HME industry," says Stuart Straus, president and CEO of Compass Health Brands. "Other major suppliers are either raising their prices or going directly after state contracts. Our organization's health is directly linked to our homecare providers' success. We remain extremely committed to them and continue to look for ways to drive their long-term success."
Compass Health Brands' 'Right Partner, Right Direction' advertisements can be seen in the print versions of HomeCare Magazine, HME News and HME Business Magazine. The company will also be exhibiting at this year's Medtrade in Atlanta at booth #1105 and will be showcasing its Carex® retail line with new at-shelf education tools and planogram sets designed to drive cash sales in a provider's showroom. Compass will also be introducing its newly upgraded ProBasics® line of DME products (wheelchairs, bath safety, beds, rollators, walkers, canes and crutches).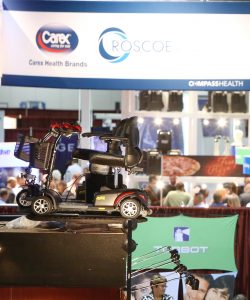 Recently, Compass Health Brands announced two key appointments to its management team, with the additions of Greg Zenko to vice president of HME sales and Todd Blockinger to vice president of national accounts. Both will be onsite at Medtrade and bring years of industry experience.
Greg brings more than 20 years' leadership experience in the medical device industry, including Linet Americas, ScottCare, Inc., and Hill-Rom, Inc.
Todd Blockinger began his career as a sales representative with Medline Industries progressing to the vice president of sales of the DME and respiratory product divisions. Most recently, Todd was the vice president of sales for the MED Group.
To partner with Compass Health Brands or to learn how the company can help HME providers drive success, stop by booth ##1105 at MedTrade 2017 or visit www.compasshealthbrands.com.