ATLANTA – For more than two decades, the Taiwan-based Formosa Cultural Corp has brought product ideas from around the world to Medtrade attendees. The now familiar company attends international exhibitions, offering a worldwide Medical and Health Buyer's Guide.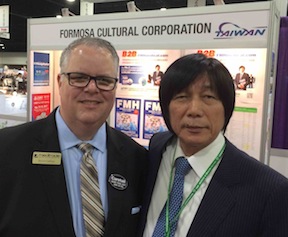 "The main product again at Medtrade was FMH Medical and Health Buyer's Guide and www.FMHmedical.com, our professional medical-only B2B website," says Formosa Lu (pictured with Kevin Gaffney, group show director, Medtrade), chairman and president, Formosa Cultural Corporation, New Taipei City, Taiwan, and Shanghai, China. "FCC has been an agent of Medtrade for all these years, and we keep bringing exhibitors from Asia to both Atlanta and Las Vegas."
Show officials sat down with Lu to get his thoughts on the U.S. market, and his optimism about the industry's future.
Medtrade: In 2016, Medicare reimbursement reductions spread to every city in the United States due to the competitive bidding program. How can Formosa's Medical and Health Buyer's Guide help providers in these changing times?
Lu: We are aware of the difficulties faced by distributors given that prices of medical devices have been driven down. We believe that many of our exhibitors from Asia have quality products at competitive prices that may be of interest to HME providers. On the other hand, many of our exhibitors also display high-end products, both innovative and competitive, and those can also be great opportunities for HME providers looking for distribution channels outside of Medicare.
Medtrade: What keeps you coming back to Atlanta and Las Vegas?
Lu: Medtrade is the biggest homecare show in the USA, which is the biggest medical market in the world. This is the right event for foreign manufacturers of homecare goods to display their products and find interested partners because attendees at Medtrade are highly professional. I am also chairman of the Taiwan Medical Care Assistive Technologies Association, making our involvement in this homecare exhibition even more relevant as we are in constant contact with all major homecare DME manufacturers from Taiwan.
Medtrade: What types of products are featured in the Buyer's Guide? From which countries?
Lu: FMH Buyer's Guide started in Asia, however, throughout the years we gradually added products from other regions. The sustained growth of our B2B platform, FMHmedical.com, has further increased this trend and we are now a global player. All types of medical products can be sourced through our tools such as DME, consumables, hospital goods, laboratory wares, mobility, and daily living aids. We can address any sourcing need.