LAS VEGAS – Three six-hour workshops on day one of Medtrade Spring sparked in-depth learning in what has become a Medtrade tradition. The Board of Certification/Accreditation (BOC) once again held its Introduction to the Certified Durable Medical Equipment Specialist (CDME) to cover the scope of practice for the CDME. Participants took the CDME exam on day three in an attempt to earn the credential.
The Certified DME Specialist (CDME) is a person who demonstrates broad knowledge of the DME/supply industry, including prescription verification, intake process, product selection, dispensing and setup, documentation, billing, compliance, and performance management.
"Trained and certified DME specialists are highly valued in the DME industry as an assurance to patients and referral sources of professionalism and quality care," says Michelle Yoon, credentialing manager, Board of Certification/Accreditation (BOC). "The CDME Scope of Practice provides greater detail regarding the role of a BOC Certified DME Specialist. The attendees who visited our workshop at Medtrade Spring were well prepared to take the CDME exam on the last day of the show.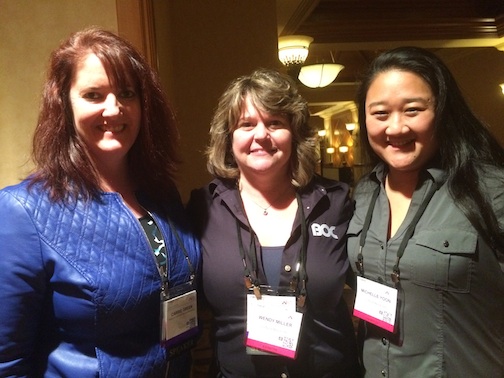 "Attendees at Medtrade 2016 in the Fall will also have a chance to take the course and exam," adds Carrie Green, marketing manager, BOC (pictured far left with Wendy Miller and Michelle Yoon). "It's a great idea, because it sets providers apart from their competition, and sets them up well to take advantage of the opportunity that exists in this industry."
Billing and AR Management: Best Practices for Clean Claims Speaker Deb Mills, implementation consultant at Brightree, led a workshop designed to help providers achieve clean claims. Attendees discovered key features and Brightree processes essential to effective billing strategies.
Mike Sperduti's HME Sales Excellence Training featured Mike Sperduti, president and CEO, Emerge Sales Inc, in an intense sales training program. For the First time ever at Medtrade Spring, Sperduti taught his step-by-step sales process to help providers meet their sales quotas, income goals, and serve an abundance of new patients.
"These types of sales training programs have become a tradition at Medtrade Spring and Medtrade," said Kevin Gaffney, group show director. "Attendees who are looking for in-depth learning should consider one of these workshops when Medtrade rolls around in October 2016."