EXETER, PA – Regardless of your personal politics, last year ended on a positive note for the industry with passage of the 21st Century CURES bill that included six months of retroactive competitive bidding relief in non-bid/rural areas, and an extension of the delay to protect complex rehab accessories from the application of bid pricing for standard wheelchair accessories.
While implementation guidance from CMS is still pending, the bipartisan action late last year, coupled with the change in Administration and Dr. Tom Price (R-GA) nearly assured to be the next Secretary of Health and Human Services, have all the makings for great opportunities to advance real and permanent relief on our priority issues.
Dr. Tom Price knows health care and our industry well as a physician. He has studied and authored legislation to bring common sense reforms to the competitive bid program. Having a physician who is knowledgeable about our industry, and the problems within the health care system, leading the agency that oversees Medicare can only help. While his confirmation hearing and follow up from the Democrats has challenged the advancement of his nomination, it should be voted on by the full Senate as early as this week and be approved.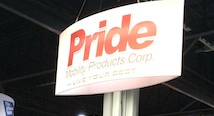 Being active in the industry on legislative and regulatory matters, I recommend you attend Medtrade Spring to learn the latest developments on industry issues and see first-hand the latest technology available on the show floor to help you and your business thrive in 2017. One such educational opportunity is a panel presentation that I will be a part of, along with other industry leaders, where we will be providing an update and discussing "The Future of Competitive Bidding: Is Change in the Air?" on Tuesday, Feb 28 at 2:00 p.m.
This is a year full of opportunity, but it will not happen without the continued united efforts of the industry and direct outreach to our legislators this year. Let's all work together to make 2017 a great year for the industry and patients we serve.
Seth Johnson is the senior vice president for Government Affairs at Pride Mobility / Quantum Rehab. He is a member of the NCART Executive Committee and AAHomecare and PAMS Board of Directors, and can be reached at 1-800-800-8586 or sjohnson@pridemobility.com. Pride Mobility will be exhibiting at Medtrade Spring (Booth 907), scheduled for Feb 27-March 1. Conference portion is Feb 27 and 28. Expo is Feb 28 and March 1.