LAS VEGAS – During last week's Washington Update at Medtrade Spring, Tom Ryan, president and CEO of the American Association for Homecare (AAHomecare) used the metaphor of a ticking clock to describe the next phase of cuts for rural and non-competitive bidding-area suppliers, scheduled for July 1, 2016.
"To have July 1 come again with another 25% cut—it's outrageous," said Ryan on day two of Medtrade Spring at the Mandalay Bay Convention Center in Las Vegas. "That's the story your Congressional members need to hear. A board member told me yesterday, 'I'm closing rural locations. I'm closing offices.' And it's an under-served area to begin with. We need to tell the story."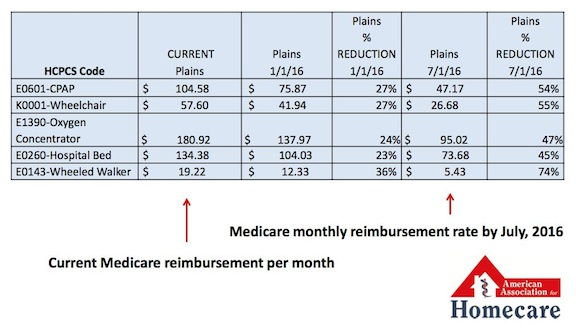 This slide from AAHomecare illustrates the rural cuts already in effect, along with the additional cuts scheduled for July 1, 2016.
After the first rural rollout cuts became effective on Jan 1, 2016, a strategy to ward off the next scheduled cuts came into focus courtesy of Senator John Thune (R-SD) via a multi-pronged approach with the following elements:
• Stop the second cut due to take effect on July 1, 2016 for DME items in non-CB areas for 9-12 months (depending on CBO score). This would delay the second cut until at least April 1, 2017.
• The pay-for would be to move the Medicaid cut from calendar year 2019 (Jan 1) to fiscal year 2019 (Oct 1, 2018). This would move the start date up by 3 months.
• Replace bid rates with a bid ceiling of fee schedule rates that were in effect on Jan 1, 2015.• Require CMS to solicit stakeholder input and take into account travel costs, volume, clearing price and information on the numbers of providers serving bid areas as part of rate-setting activities for Jan 2019 and beyond.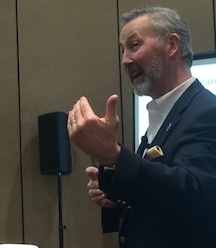 John Gallagher (pictured) echoed the sentiments in his presentation a day earlier, saying that getting a delay was crucial, particularly in light of today's "toxic political environment." Gallagher added that the "end game" was still the market pricing program favored by industry champion Rep Tom Price (R-Ga).
Jay Witter, vice president, Public Policy, says a bill is almost ready in the Senate. "We have been in communication with Rep Price, and Dr. Price is raring to go to get it into the House, and our champions are ready in the Senate to get it done and they are lining up allies," said Witter.
Getting passage of the delay via "fast track" means will be difficult, but Thune says it can be done. "This is a proposal that will keep us alive so that we can continue to fight with a new administration and with Congress next year." From a regulatory angle, Witter added, "We all know that CMS can fix this. And we are getting a number of Senators to request this."