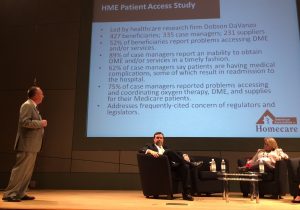 ATLANTA – American Association for Homecare (AAHomecare) team members expressed empathy and optimism on day two of Medtrade at the Georgia World Congress Center in Atlanta.
"When I see people going out of business after 30 years, 20 years—second and third generation—it gets to me," said Tom Ryan, president and CEO, AAHomecare, during the organization's Washington Update on Tuesday (Oct 24) morning. "It gets to our team. That's why we fight every day."
Ryan said association membership growth has been strong in 2017, and the fight to get additional competitive bidding relief for rural providers is continuing—despite the recent resignation of HHS Secretary Tom Price, a reliable champion for the industry. "There is an IFR (interim final rule) sitting over there at OMB [Office of Management and Budget] right now," he said. "I know we are disappointed [about Price], but we are not out."
Ryan touted CURES Act legislation that helped some HME providers get hundreds of thousands of dollars returned to them. Meanwhile, the long-term policy focus remains on competitive bidding reform. Ryan added that three meetings in three weeks at HHS have helped to get the message across. "There is an access issue going on," he said. "The fact that we are losing 40% of the industry is devastating."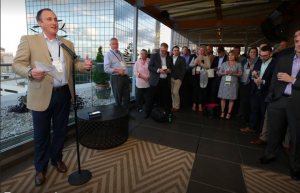 Stand Up for Homecare Brings in More Than $50K; Sheehan Earns Advocacy Award
The Stand Up for Homecare reception brought together some of the most influential leaders in the HME community for an evening of networking and celebration, while also honoring the 2017 Van Miller Homecare Champion, Gary Sheehan of Massachusetts-based Cape Medical Supply.
The Stand Up for Homecare campaign promotes a positive image of the HME industry and raises public awareness of homecare's many benefits. This year's attendees contributed more than $50K to the cause. Money given fuels the PR campaign and also supports consumer advocacy groups such as United Spinal Association, ITEM Coalition, the National Council on Independent Living, and Paralyzed Veterans of America – organizations that serve many of the HME industry's patients, while also serving as strong allies on legislative and regulatory priorities.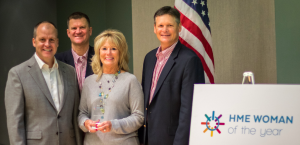 Smith wins Woman of the Year award
ATLANTA – Barbara Smith has been selected as the winner of the 2017 HME Woman of the Year award. The award was presented to Smith at a ceremony held at Medtrade. She was one of four finalists selected to attend the conference and the special award presentation.
"I feel blessed that my contributions have been recognized by my peers, family and staff," said Smith, who is chief executive officer of Healthline Medical Equipment. "There are so many women out there doing great things in our industry, and it's an honor just to be nominated."
Smith has worked in the HME industry for 27 years, 25 of which have been at Healthline. Under her direction, the company, headquartered in Wichita Falls, Texas, has grown from three locations to 12 with 196 total employees.
Through the years, Smith has been a powerful advocate for the industry on the state and national levels. She will continue to share her passion by serving as president of the newly formed state association, TX MEP, which she helped create.
"On behalf of VGM, I am proud to present the HME Woman of the Year award to Barbara," said Mike Mallaro, CEO of VGM Group, Inc. "First and foremost, Barbara is a leader. She has earned the respect and admiration of the people in her company, the referral sources and patients she and her company serve and her competitors and peers across the industry. She exemplifies the dedication and innovation required to evolve her business. Thank you, Barbara, for being a trailblazer in our industry."
The HME Woman of the Year award was created by VGM Group, Inc. Nominees were from all across the nation and included a broad spectrum of providers, manufacturers, association executives and other professionals in home medical equipment, rehab, respiratory and mastectomy. A selection committee chose the finalists using criteria that included implementing new business processes, advocating on behalf of the industry, improving the lives of patients and impacting the community through volunteerism.
"Our industry has changed significantly over the years, and we try to stay focused and evolve with it," mentioned Smith. "I hope that I can continue to encourage women to be a part of HME. I tell every one of my employees, 'When you take care of the people, the business is going to come.' If you're passionate about something, you're going to be great at it."