OLD FORGE, PA –  Golden Technologies has launched new innovative products in the power lift and recline chair division. The introduction of this new technology and comfort features will help retailers drive cash sales with our profit producing products.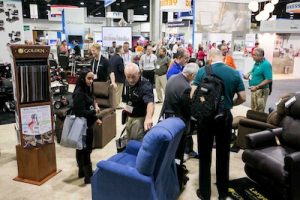 The PR404 Imperial lift recliner offers a powered articulating, full-width headrest, power lumbar, a compact 6-button remote, and a pocketed coil seat. The headrest adjusts for personalized comfort. "It's all about comfort," said C.J. Copley, executive vice president of Sales & Marketing. "It's another product to help retailers find the perfect fit for customers." We did a pre-launch exclusive to Flagship dealers with an overwhelming reception. "We wanted a mainstream price with a mainstream look, packed with all the options that we could make available," added Copley.
The PR632 DayDreamer is a medium-sized power lift recliner offering our exclusive Power Pillow articulating headrest and Cloud seating system, featuring our custom bucket seat. Golden has expanded the Cloud seating system by introducing it in the new DayDreamer. The seat design has been noted as one of our most comfortable seats, utilizing different density foam to create the ultimate recline experience. According to Copley, "Our retailers tell us that no seat is more comfortable than the Cloud seat, therefore we are offering the option in more models."

The PR713 Pub chair is a medium-sized power lift recliner with a classic look, featuring a two pillow waterfall back, nail head trim on the arms and wings, and cut back arms. It also offers a full chaise pad and pocketed coil seat for added comfort. "It's an all-new design thanks to feedback from our retailers who wanted a more traditional look with all the modern features and comfort. A new arm design features smaller, hand tacked nails," said Copley.
Golden is also expanding the High-Performance Fabric line and offering quick ship for the PR401-MLA Cambridge in Bamboo. According to Copley, "There's a High-Performance Fabric now stocked and standard on the PR401 in an effort to make this material more available. We're stocking the most popular color of the line on the high selling Cambridge."
In addition, we are now offering new Easy Living fabric on the PR931 Space Saver line in Anchor, Oxford, Bittersweet and Sandstorm. This fabric has a modern, updated look and tailors extremely well, bringing out the shape and design of our chairs. Shipments for all retailers began on December 1, 2017.