DALLAS – The first Medtrade to ever take place in Dallas concluded last week with solid reviews and a lot of happy exhibitors and attendees. Last year's Medtrade was only five months ago in Atlanta, but this time the wait will be a full year.
The specific time and place for Medtrade 2024 is March 26-28 right back at the Kay Bailey Hutchison Convention Center in Dallas. If you couldn't make it to the show last week, check out the reactions below to get an idea of what you missed.
"I've been coming to Medtrade for the past seven or eight years, and I usually go to both shows. I really like the idea of one show now instead of two. I come to Medtrade to learn." — Don Dobbins, owner, Heritage HME, Wichita Falls, Texas
"I am enjoying the education at Medtrade and I'm excited about the exhibit hall. It's difficult to find quality industry-focused education, so Medtrade is the place to be." — Donna Daugherty, Lawton Medi-Equip, Lawton, Oklahoma
"This is my first time attending Medtrade. Ty Bello's Sales Bootcamp was really good and opened my eyes to a lot of things. I'll take a lot of good ideas from his presentation. I'm looking forward to the Expo and visiting with Philips, Golden, and Pride." — Patrick Means, Midwest Family Health, Phillipsburg, Kansas
"Medtrade has been great. It's been productive and we've seen good candidates who are interested in what we have to offer." — Mason Salzetti, Stander, Logan, Utah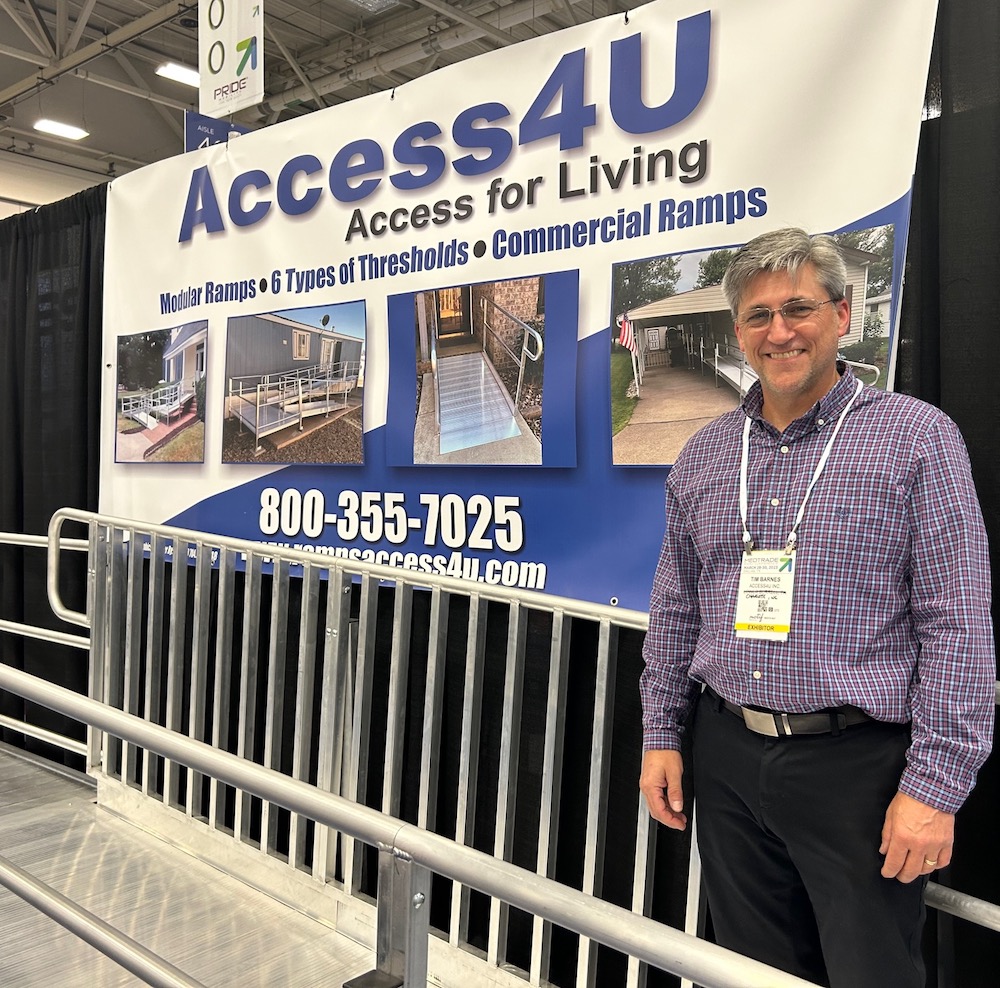 "Medtrade has been very good. In Atlanta we saw repeat customers, but this year in Dallas we are making more new contacts. The majority have been serious inquiries. Exhibiting here at Medtrade is helping to get our name out to the dealers. We're planning to be here next year and we have already picked out our booth. The Omni attached to the convention center is also a big plus. The rooms are great." — Tim Barnes, Access4U, Charlotte, North Carolina
"Medtrade has been great and we've had good conversations. It's been really good. It's nice to catch up with existing customers. There is definitely more foot traffic than we had in Atlanta. For us, it's a more valuable trip." — Abby Schornick, F&P Healthcare, Irvine, California
"Medtrade has had good foot traffic and productive discussions. We're seeing jovial people. We're seeing a lot of people from Texas, but really they are coming from all over the country and even internationally from Guatemala. — Rachel Soriano, Cardinal Health At Home, Twinsburg, Ohio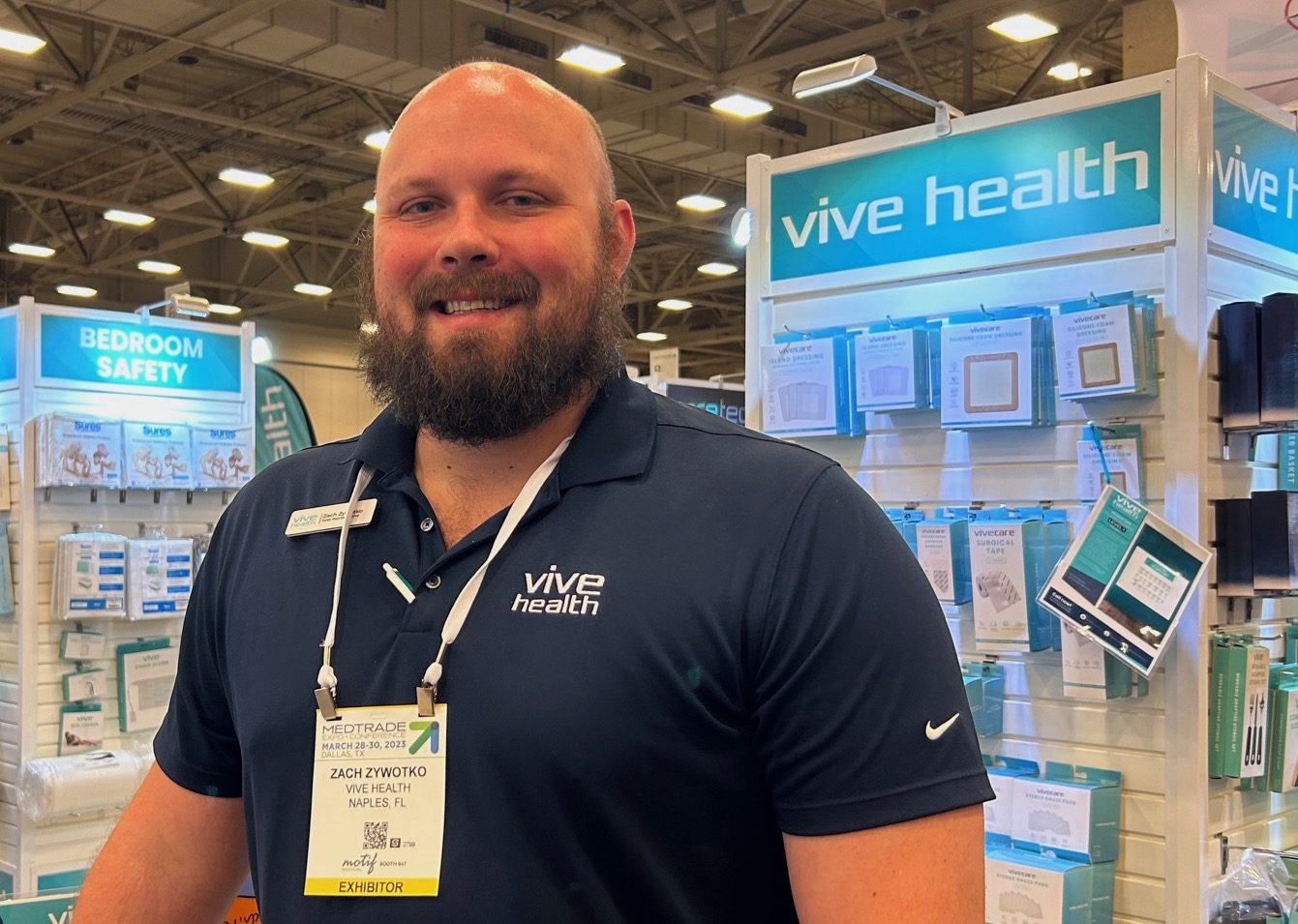 "I've been non-stop with customers and also engaging with vendors. Medtrade is a great space to network with existing and prospective customers. I like the centralized location of Dallas, because it's convenient for everyone. Prospective customers are open to learning about the industry and diversifying their product lines." — Zach Zywotko, Vive Health, Naples, Florida
"The show has been fantastic. Medtrade in Dallas is definitely stronger in Dallas with much heavier foot traffic. We are getting a lot of attention. The city and the operations have been convenient with no problems." — Darrel Druckman, My Crutches, Trumbull, Conn.
"Overall it's been a great event for us. We're seeing a good diversity of people from many locations—both ends of the country…I think next year this show is going to really blow up." — Robert Shea, Rhythm Healthcare, St. Petersburg, Florida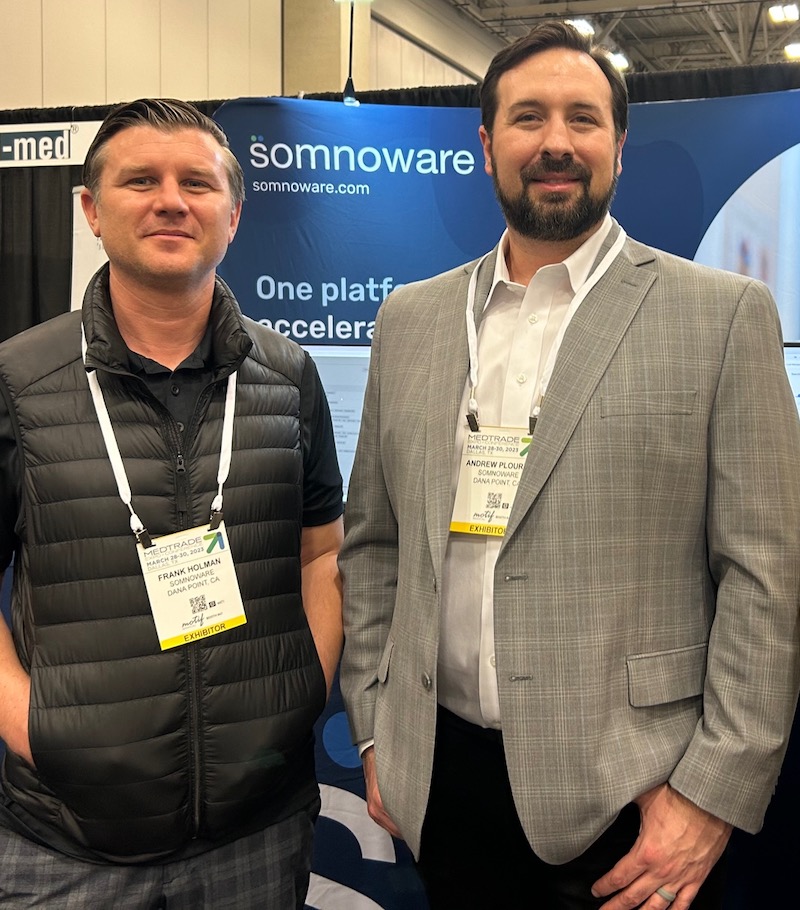 "Medtrade has had much better attendance this year in Dallas than it did last year with the two shows. We've been speaking with decision makers such as clinical directors here at Medtrade and it is helping us to form relationships." — Frank Holman (left) and Andrew Plourde, Somnoware, Dana Point, California
"We've spoken with a lot of people here at Medtrade and we've seen serious interest with people wanting to see more. They ask about Medtrade deals, which we have." — Sara Sheridan, Medline Industries, Northfield, IL