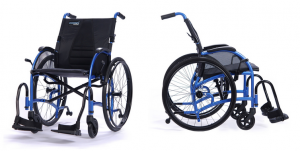 ATLANTA – Offering a new take on a familiar product, STRONGBACK Wheelchairs took second place in Medtrade's 2017 Innovative HME Retail Product Awards, sponsored by HomeCare Magazine.
The STRONGBACK 24 Wheelchair and STRONGBACK Excursion Wheelchair come in different seat sizes and wheel specs, and officials at Virginia-based Strongback Mobility USA are confident that customers who sit in the chair will want the chair.
"We brought something to market that has been needed for years," says Sara Haupt, vice president – US Operations, Strongback Mobility USA, Virginia Beach, Va. "We brought something that is designed for the comfort and health of the person's back."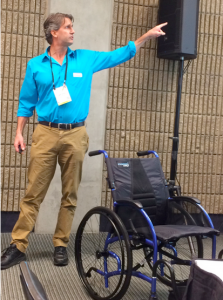 STRONGBACK wheelchairs are not complex rehab products, but instead are designed for people who are limited physically in their mobility. Haupt believes the strictly-cash product is perfect for DME shops looking to boost their revenue.
"People need to sit in our chair," she says. "You can't do that over the Internet. Providers who have relationships with the customers, with the doctors, with the physical therapists—they can ask people to come into the shop and sit in the chair. When they do, they are going to say, 'Oh my goodness. This is actually comfortable,' and they could see their loved one, or themselves, sitting in this for a long period of time and actually sitting healthily and properly rather than the opposite.
"Encourage customers to sit in it, because it almost sells itself when somebody sits down," adds Haupt. "If you have our chair next to a standard chair, the difference is immediate. It's going to support the back, and providers should focus on that aspect. It's also very lightweight, which is good for transport and makes it easy to fold up and carry."

Strongback Mobility USA earned the award at Medtrade, held last month at the Georgia World Congress Center in Atlanta. A rep from Strongback Mobility USA (Ladd Lougee, president, Strongback Mobility USA, pictured above) made a presentation and three judges cast their votes along with all session attendees. Moderator Jim Greatorex, vice president, VGM Live at Home, a division of the VGM Group, tabulated all the votes to come up with the top three.
DME providers will get another chance to learn from the best experts in the industry, and learn about the newest products, next year at Medtrade Spring, scheduled for March 27-29, 2018, at the Mandalay Bay Convention Center.