PHOENIX – CAIRE made a strong case for innovation last week during Medtrade West, fashioning a compelling demonstration of its myCAIRE telehealth solution. Cassandra Gordon (shown here speaking to trade media) explained how providers could improve oxygen patient management with myCAIRE's 24/7 remote access.
Providers who visited the CAIRE booth at the Phoenix Convention Center got an interactive presentation that showed how to establish or upgrade their O2 operating system through:
• rapid, remote data collection from CAIRE oxygen concentrators in the field;
• connection to CAIRE equipment via the patient's smartphone or tablet; and
• secure, cloud-based technology accessible from desktop or tablet anytime.
Gordon explained that patients improved their confidence and satisfaction with instant access to their own usage data, in addition to a better sense of security knowing that they are connected to their care team. For providers, myCAIRE represents a chance to build credibility with a higher level of patient care while empowering patients to take an active role with their own therapy.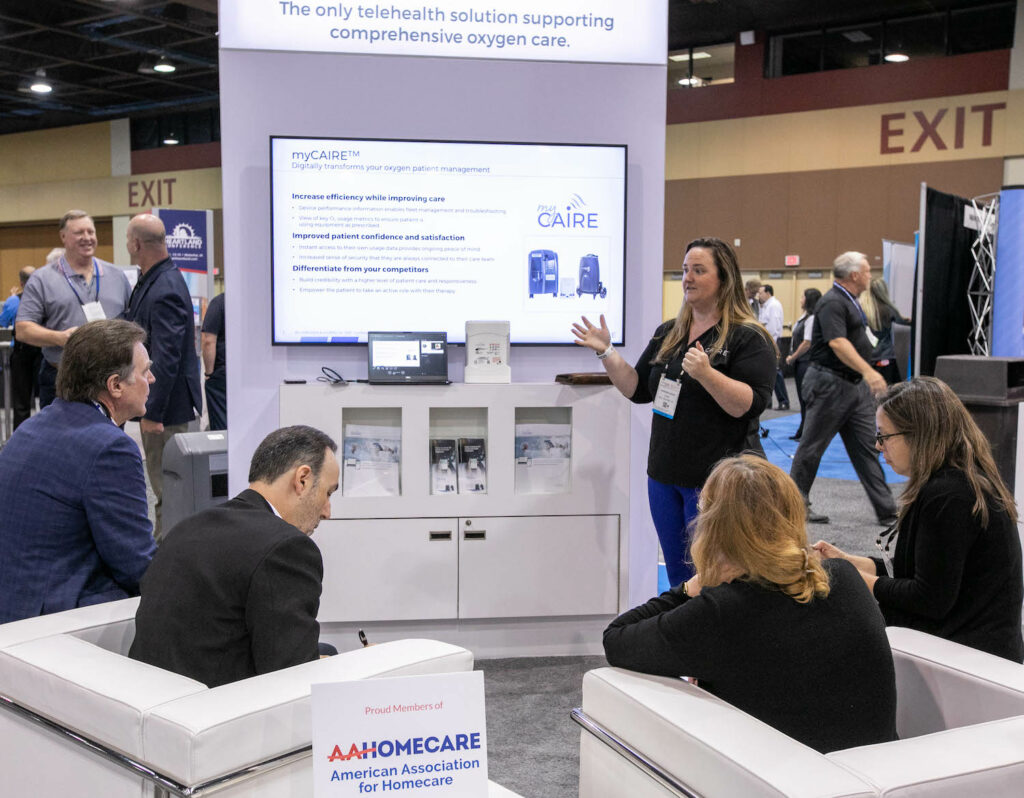 "It was important to us to have a telehealth solution that connected to CAIRE's premier oxygen concentrators in the portable, transportable, and stationary categories – the full spectrum of oxygen care for patients," said Earl Lawson, president and CEO. "Because of this, CAIRE is the only oxygen manufacturer that offers its provider partners a holistic approach to serving the complex healthcare needs of oxygen users during activity or when they are at home."
The myCAIRE application is available through Android, iOS and Surface platforms, and the portal provides customizable views, filtering, and search options to view oxygen usage, flow rates, device notifications, equipment location, and requests sent directly from patients to the provider through the app.
The timing of the launch supports the needs of providers who  administer care to oxygen patients with respiratory conditions, like COPD, but also the growth in the population of users who have been prescribed oxygen as a therapeutic component to their recovery from the novel coronavirus, COVID-19.
"We see the use of telehealth as it applies to oxygen therapy equipment to only expand as adoption increases and access opens up," added Barry Hassett, vice president of Global Marketing. "This remote visibility to patient data allows the provider to engage with those patients who require more frequent touchpoints in their case management through personal contact and educational resources — the end result is improved care for patients."