ATLANTA – Medtrade East wrapped up last month with attendees placing their votes on their favorite entrants in the New Product Pavilion Providers' Choice Awards, sponsored by HomeCare Media.
In a close vote, Motif Medical of Asheville, N.C. nabbed the Silver Award for its Aura Wearable Breast Pump. Medtrade Monday sat down with Jason Ivey, account manager at Motif Medical (pictured with Samantha Akerson) to learn more about the company and the award-winning product.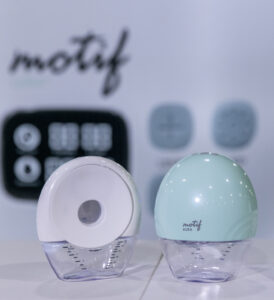 Medtrade Monday: Why did you decide to return to Medtrade?
Ivey: Medtrade has been a staple in the DME/HME world for a long time. With our focus being on supporting DME suppliers across the country, attending Medtrade allows us to connect with the brightest minds in the industry to understand how this business is evolving and what we can do to help. We've seen big changes in how business is conducted in the post-COVID world and Medtrade gives us an opportunity to meet with potential new customers as well as a chance to connect with our current partners.
Medtrade Monday: What type of reaction did you get from attendees?
Ivey: Attendees are always excited to learn about our current offerings as well as newly available products. We get great responses to our brand and our "Nurture by Motif" program which is designed to support our customers in reaching their business goals.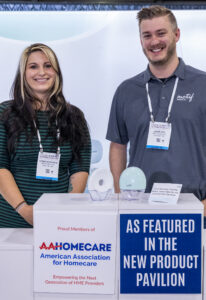 I have exhibited at the last six Medtrades, so attendees who are currently in the Maternity space want to understand what makes Motif and our products different from what they currently provide. For attendees who aren't currently in the Maternity business, they really enjoy seeing what opportunities are out there as they look for ways to enter new markets and diversify their business.
Medtrade Monday: Why do you think your product did so well?
Ivey: I think the Aura received the votes that it did because it gives our customers a new and exciting product to make available to their patients. We have seen this new wearable product category gain a lot of popularity with new and expecting moms, and it's been a top requested item for us to add to our portfolio for quite some time.
Medtrade Monday: What are your plans for the future of the product and the company?
Ivey: Once Aura is launched in the market, we will spend time with our customers in promotional efforts and prepare them for any expected questions based on our focus groups. Motif Medical in general will continue to provide high quality products that meet consumer demand while preserving profit margins that our customers deserve. HME/DME is our primary focus and we will continue to invest in their success.