ATLANTA – Medtrade attendees have been reading my slogans for the better part of seven years, but a marketing director usually stays somewhat behind the scenes. In another "peek behind the curtain," I'll attempt to give a glimpse of my role, as well as a bit of my background.
I was born and raised in Florida, and that sunshine state ethos shows up in my laid back style and wry humor—"whines and boos" to go with "wines and brews" at the Audit Happy Hour is one of my favorites!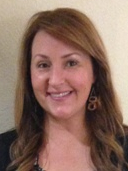 My parents both dish out sarcasm and wit, and I suppose the apple did not fall far from the tree. Growing up, if I didn't have my nose in a book, I was doing something creative such as crafts or music (I play the saxophone) and I like to work some creativity into marketing pieces where I can. The industry needs a little levity.
In my role as marketing director for Emerald Expositions, my main job is to get attendees to come to the show, and help the sales team get exhibitors to show off their wares.
I graduated from Mississippi State University (MSU) with a marketing degree, and yes, I was cheering when the MSU women's basketball team recently ended the University of Connecticut's 111-game winning streak with a buzzer-beating shot in overtime. Back to marketing…my first jobs were in sales, beginning at Nestle, eventually moving into the sign industry working with banks, malls, casinos, churches, and even a waterpark.
Life and marriage eventually led me to a new job where I could use my marketing skills and imagination to my heart's content. It was in the gift industry and I managed the north Florida and south Alabama territory. I enjoyed the selling part, meeting with customers/prospects, finding out their needs, and then working the right products into their stores. At that point, I also began collecting email addresses and sending out emails about new products or industry trends—ultimately creating my own sell sheets and direct mail pieces.
I was promoted and ended up moving to Atlanta, but the economy woes eventually found us, and I was searching for a job like millions of others. Luckily for me, Nielsen Expositions (now Emerald Expositions) was looking specifically for someone who had sales and marketing experience for a marketing manager position. I was finally able to move out of sales and into marketing, with an appreciation for how the two work together.
As I dove into the HME world through industry publications, I marveled at the illogical way in which the competitive bidding program had been fashioned. It was an auction system that only a government bureaucracy could create. I thought; what have I gotten myself into? And yet, the underlying demand for home medical equipment would surely go up. A healthy industry is good for my job, and it's good for HME providers. I still believe that, and I'm optimistic that industry conditions will continue to improve.
I develop and manage budgets and marketing plans for audience acquisition and exhibitor sales enablement, which includes website content, sending direct mail, working with our social media contractor (StinaBee Marketing & Events), and generating emails to prospective and registered attendees and exhibitors.
After seven years working on Medtrade Spring, Medtrade, and other shows, I'm occasionally asked: Why are these shows still relevant in 2017— an undeniably digital age? The answer is touchy-feely. Let me explain. I say "feely" because it makes me think about handshakes and making connections.
When you see old friends in person, it's different than just talking over the phone or following them on social media. When I meet an MSU alum in person for the first time, the conversations are different than if I were crossing paths online.
Our industry in particular has a lot of old friends and new friends alike, but the absolute best way to make those connections more meaningful is face-to-face. "Touchy" is getting hands on products. Looking at something in person vs online is night and day, especially when it comes to products you are going to recommend or sell to patients/customers.
Seeing those products in person is vital, as is knowing and trusting the manufacturers behind those products. Those kinds of connections are truly solidified in person. When Medtrade convenes Oct 23-26, 2017, at the Georgia World Congress Center in Atlanta, I look forward to seeing you there.
Sarah Varner is marketing director for Emerald Expositions, Atlanta, Ga.