WASHINGTON, DC – AAHomecare has offered a Legislative Conference for
more than thirty years. Each time the issues vary, but our attendees and
their reasons for coming do not. AAHomecare member Barb Stockert,
with Sanford HealthCare Accessories in Jamestown, North Dakota explains
why she believes the conference benefits everyone in the industry:
"The AAHomecare Legislative Conference provides us with a great
opportunity to learn first-hand about the critical legislative and
regulatory issues which impact our industry today. I have attended the
Leg. Conference for the past seven years, and look forward to hearing
from Elected Officials and industry experts about the critical issues we
face and how we can best present our case to the ones we have elected. I
look forward to meeting with other suppliers so we can better network
for our common cause.
"Meeting with our elected officials in DC benefits everyone because we
are able to present the same issues in many Congressional offices at the
same time. By doing this, we can stress the importance of them
addressing our priorities but also share our own common interest stories
that so affect our day to day survival. This alone will make a huge
impact on the Hill!"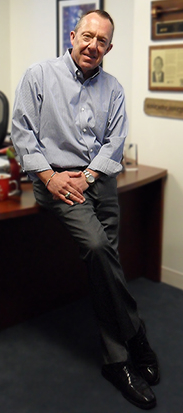 Don't
miss your chance to join Stockert and other AAHomecare members who make
advocating for the industry in DC each year a priority. Register now
for the AAHomecare Washington Legislative Conference, May 24-25 at the
Washington Court Hotel. And tell us why you believe it benefits your
business using #AAHWLC17.
To accommodate the most opportunities to meet with and build
relationships with your Congressional representatives, AAHomecare has
shortened this year's program, concluding the sessions at 2:00 pm on May
24.
However, informed representatives sharing the same message is critical –
we will continue to offer an issue education session following lunch
and include access to homecare's top experts who will help you
understand the details of the key issues during Wednesday's issues
education. AAHomecare will also, once again, schedule appointments for
you and provide leave behind materials for your meetings.
Not only will a shorter program make the conference more accessible to
business owners who find it difficult to be out of town for extended
periods of time, but the new reduced price will also assist. The 2017
conference registration is half the cost of last year's registration
fees – just $49 for AAHomecare members and $99 for nonmembers.
Washington Legislative Conference
May 24-25, 2017 at the Washington Court Hotel
Conference Rate $49 Members | $99 Nonmembers – find registration info here
Early bird room reservations through April 28- Single $329 | Double $349 – use this link to secure early bird rates.
Tom Ryan is president and CEO of the American Association for Homecare, Washington, DC.