ATLANTA – Belluscura plc will continue to make its presence felt at Medtrade East (Booth #317) when the show convenes Oct. 24-26 at the Georgia World Congress Center in Atlanta. Attendees at last year's show may recall that the New Product Pavilion Providers' Choice Gold Award, sponsored by HomeCare Magazine, went to the Belluscura XPLO2-R portable oxygen concentrator.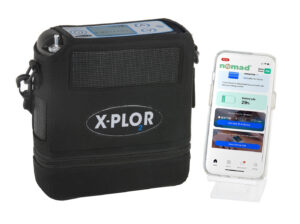 Company officials have been busy since then and will bring the New Gen X-PLOR® and Nomad™ Health app to this month's Medtrade East. Long focused on lightweight and portable oxygen enrichment technology, the launch of the Bluetooth® enabled, next generation X-PLOR® portable oxygen concentrator (previously described as the X-PLOR CX) provides more oxygen by weight than any portable oxygen concentrator in its class.
With its new Nomad Health™ App, patients can connect other Bluetooth® devices such as their iPhone® or Android phone, Nonin® or Masimo® pulse oximeters, and Fitbit® wearables. Patients will be able to track their oxygen usage, breathing rates, blood oxygen saturation levels, heart rate, sleep, and other important biometric and environmental data. Patients can then share this important healthcare data with providers.
With the launch of the next generation X-PLOR, Belluscura continues to add more sizable distributors and DME providers to its distribution network. "I am very excited about the launch of the next generation X-PLOR with the Nomad Health App," enthuses Robert Rauker, CEO of Belluscura plc. "Our goal is to not only provide cutting edge medical devices, but to also improve patient outcomes with every new product we launch. We believe putting more health and environmental information in the hands of our patients will result in greatly improved long-term patient outcomes."
X-PLOR® is a lightweight portable oxygen concentrator with user replaceable oxygen enrichment cartridge and direct-charge batteries. Weighing 3.75 lbs, its Airgonomic™ and ModulAir™ Design ensures a user-friendly experience and comfort. The device has multiple Pulse Flow Settings including X-PLORATION™ Mode (750mL for 10 mins).
Belluscura plc (www.belluscura.com and www.xploroxygen.com ) is a UK medical device company focused on developing high performing, lightweight, and portable oxygen enrichment technology used in a broad range of industries and therapies. The innovative oxygen technologies are designed to create improved health, mobility, and economic outcomes for patients, healthcare providers, and insurance organizations.