ATLANTA – Exhibitors big and small continue to sign on for Medtrade, the nation's premiere HME event, scheduled for Oct 26-29, 2015, at the Georgia World Congress Center in Atlanta.
Travis Willoughby, production manager at Savoy, Tex-based Snap-It!, hopes to build on momentum from last year when he shows off various mobility-related accessories such as the drink/cell phone holder combination (pictured).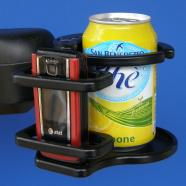 "It was a good turnout last year at Metrade 2014, but we're still not as well known as we should be," says Willoughby. "We want to let everyone know what we have. We'll have the adjustable single-drink holder, with the top two arms adjusting like pacman's mouth. We have the adjustable drink holder/cell phone combination, plus regular cell phone holders."
All items are proudly manufactured at the company's 800-sq-ft headquarters in the lone star state, and Willoughby believes people will notice the quality. "There is stuff out there that does what our products do, but if you were to throw them on the ground, they are going to break," he explains. "Our stuff is solid. It's not made in China. It's just the four of us, and it's a family company. We design it, send it to the machine that cuts it all up, assemble the products, pack them up, and ship them.
"People were surprised at the quality of our products last year at Medtrade," continues Willoughby. "Our prices are really competitive, and we got a lot of business at the show. Once attendees get it in their hands, they know it's made tough. You can run it into the door, and it's probably not going to break. And if it does, you just call us and we'll ship out the part that broke."
Next week will feature four more exhibitors who plan to show off their innovations at Medtrade.
Medtrade Early Registration is On
ATLANTA – For those looking to acquire education and innovative products, Medtrade is set for Oct 26-29, 2015, at the Georgia World Congress Center in Atlanta. Those who choose to register now can save up to $75 on the Expo, and more than $200 on the Conference over later rates and/or day-of-show rates.
Click the link below to register for Medtrade 2015
http://registration.experientevent.com/showMTH151/default.aspx?flowcode=Attendee