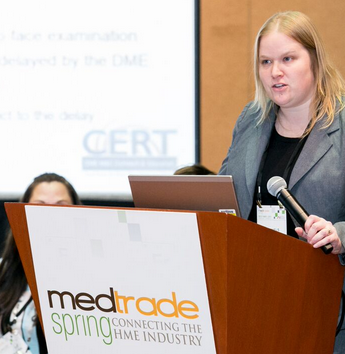 ATLANTA – The Medtrade East Call for Presentations is still on with the deadline extended to Friday, May 14. Medtrade East is scheduled for Oct. 18-20, 2021 at the Georgia World Congress Center in Atlanta. Are you willing to share your success and struggles? Are you an expert with knowledge to bestow and/or a provider with something to share? If you are dynamic and love to be heard, we want you.
Join us in Atlanta at Medtrade East and share your story and expertise as a solo presenter, collaborative team, or panel. Let's share our successes and challenges, working together to bring more insight and knowledge to the masses by presenting information we've gathered while out there fighting the good fight.
Program Guidelines
Your program should address one of the educational tracks listed below. Sessions are either 1 hour or 1.5 hours in length with time for Q&A.
Please submit under one of the following tracks:
Business Operations
Executive Leadership & Planning
Legal
Retail
Sales & Marketing
Submissions are due by Friday, May 14.
The Evaluation Process
Medtrade management along with members of the Educational Advisory Board (EAB) will evaluate all presentations based on the following criteria: timeliness of topic, overall content, audience level content is geared for, audience interest, creativity, prior speaking expertise, knowledge of subject matter, prior speaker evaluation results, and speaker references. To be considered as a speaker, your program must be educational in nature — that is, sales presentations will not be accepted. In addition, your material should be original; otherwise, sources must be referenced. For multiple speakers, each speaker must agree to this submission. Incomplete program submissions will not be considered.
Thank you in advance for your submissions.
If you have any questions, please email Toni Ward, senior conference manager.
antoinette.ward@emeraldx.com
Early Rates For Medtrade West – Through May 15
Right now, early rates* for Medtrade West are in effect through May 15. Early Rates offer a $50 savings on a Conference Pass (over Advance Rates) and $130 in savings over Standard Rates. Expo Passes are also being offered at low Early Rates.
"It's been a long road indeed to get to this moment when we can confidently offer registration for an in-person show," says Schwab. "We are eager to get back to business, and Medtrade West will have a few surprises."
For example, there will be no conflict at all between educational sessions and time on the Expo floor. Medtrade West will also debut its Welcome to Phoenix Preview Night, a free event which is scheduled for Tuesday, July 13 from 4:30 p.m. – 6:30 p.m. The Preview Night will give attendees a chance to eat, drink, and preview the Expo floor. "We are one of the first trade shows in the emerging post-vaccine world," Schwab adds, "and we are truly excited about it."
FYI: A Conference Pass includes admittance to the Expo/show floor.
Click Here to register for Medtrade West, or copy and paste the link below.
https://registration.experientevent.com/ShowMTH212?flow=attendee&MarketingCode=MTMON
* Offer valid for qualified attendee-type companies only, not for exhibiting-type companies who sell their products/services to Medtrade attendees (NONEX – view full NONEX policy here).