LAS VEGAS – Exhibitors and attendees at Medtrade Spring felt the excitement. Armed with determination and a willingness to learn, motivated attendees took full advantage of informative educational sessions and spoke with exhibitors who were eager to share product knowledge.   
"Medtrade Spring far exceeded our expectations," said Marcus Banks, director of Sales, Homecare Solutions Division, Mediware Information Systems, Lenexa, Kansas. "For us, the amount of foot traffic was more than last year. Attendees were really interested in talking and learning. They were not here to pick up trinkets. We are looking forward to the next show in Atlanta, then again in Las Vegas in 2018."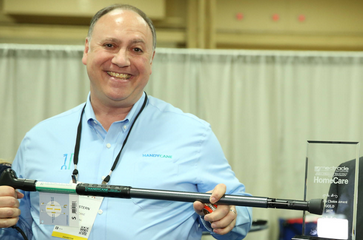 Alec Stern, co-founder, Handy Cane, Salem, Massachusetts, likes Medtrade Spring because it is a chance to connect with customers/distributors who don't make the trip to Atlanta. It's a perception that is backed up by Medtrade's own attendance metrics. "There is only about 10% of attendance overlap from Medtrade to Medtrade Spring," confirms Sarah Varner, marketing director, Medtrade. "It makes sense for exhibitors to make the trip to both shows."
"We signed a lot of distributors on the spot, and in areas where we previously did not have coverage before," said Stern. "That is the advantage of being out here in the west at Medtrade Spring. As for this year, Medtrade Spring has gone really well. Day one was incredible."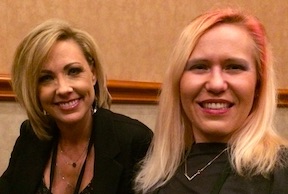 Providers Amanda Pace, Freedom Medical Supply, Upper Sandusky, Ohio, and Sherrie Eibling, MOT, OTL, also from Freedom Medical Supply, made their first trip to Medtrade Spring. They went specifically to learn more about caretailing/retailing. "We have a two-year-old business," said Pace, pictured far right. "We are setting up retail space, and we want to find ways at the show to maximize that space."
"We are riding out the storm," added Eibling. "We believe that if we do ride it out, there is great potential in this industry."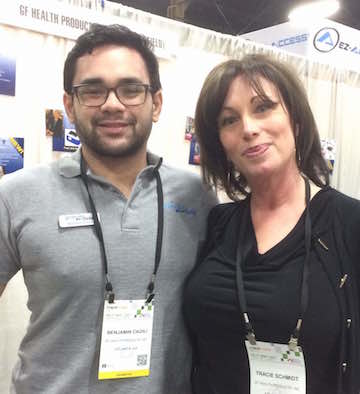 Atlanta-based Graham Field chose to exhibit at Medtrade Spring and co-location show Environments for Aging (EFA), to capture the full breadth of the market. Tracie Schmidt, Los Angeles-based territory manager for GF Health Products Inc (shown here with Benjamin Caoili, territory manager) reported a "steady flow of constant" foot traffic. "We did not have a moment to even say hello to each other," said Schmidt.
For those who are skeptical about the state of the industry, Schmidt had a message. "Some people don't believe there is money to be made in home care," she said. "That is a misconception, because the elderly population is increasing. They want to be active and mobile. They need the aids to daily living."
Dave Golen, vice president of Sales, Universal Software Solutions, echoed Schmidt's sentiments. "The amount of patients coming into the space is growing," he said. "There is optimism driven by the sheer numbers. We will be at Medtrade 2017 [Atlanta] with a larger booth."
Rita Crompton, owner/founder, The Inventor Lady, Denver, Colorado, pointed out that as an exhibitor it's not only about how many you see, but the quality of those booth visitors. "It's about finding the right contacts, whether it's distributors, licensees, or store owners," she said. "We are planning to be at Medtrade Spring in 2018. Dollar for dollar, it is better to launch at a professional trade show, rather than knocking on doors."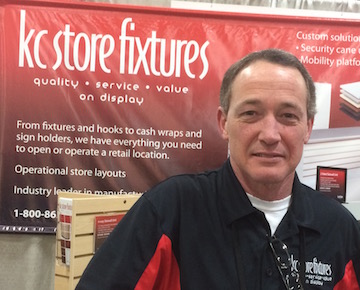 "I think people are really getting the caretail concept this year, and the transformation to retail/caretail is starting to get going," said Phil Vaughan, Research and Development, KC Store Fixtures, Kansas City, Missouri. "Medtrade Spring attendees were enthusiastic and definitely moving in that direction."
Kathleen Hanek, senior product manager, SP Ableware – Maddak, Wayne, NJ, also saw the caretailing concept continue to blossom. "Day one of Medtrade Spring 2017 was the busiest Medtrade Spring I have seen in five or six years," she said. "We had great traffic. The overall energy and buzz was a little higher this year. At Medtrade Spring, we see a lot more west coast people. And with competitive bidding, a lot of providers are looking to become retailers/caretailers. We have the cash flow products they need."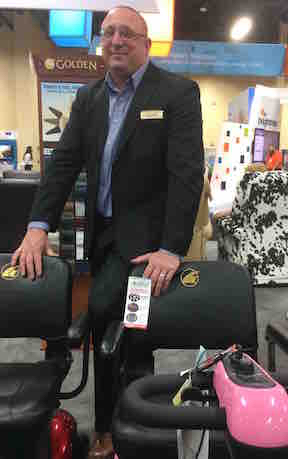 Golden Technologies Inc, Old Forge, Pa, again made an impact at Medtrade Spring with the American flag hanging from the company's massive banner on the show floor. Golden's American made products are high quality, and Jason Davis, vice president of Sales, believes providers can make solid profits with these big-ticket items if they adapt the proper mindset.
"We want people to focus on revenue, not on acquisition costs," said Davis. "We want to show them how they can increase their cash flow, because that is the number one question. With competitive bidding hitting, providers are now understanding how to sell the bells and whistles with scooters, lift chairs, and other items.
"Day one of Medtrade Spring was really really good," he added. "We were probably the busiest booth, or at least top two [says with a chuckle]. We support the industry and believe it's important to educate attendees."
That level of enthusiasm was not confined to the large booths. Cure Medical (makers of the The Cure Catheter®) lauded the "high quality of booth visitors" who were looking to buy.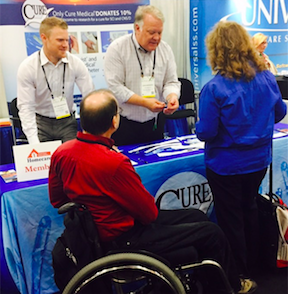 "We've been happy with the whole Medtrade Spring experience," said John Anderson, CEO, Cure Medical (pictured here with son Matt Anderson, territory manager [West]). "It was fantastic—much more crowded than last year, so it is time and money well spent. I believe you have to do both Medtrade Spring and Medtrade to really cover the nation. We will absolutely be back to Medtrade Spring 2018, and Medtrade 2017. We will always be at the shows."     
After three days of Medtrade Spring, Steve Ackerman, CEO, Spectrum Medical, Silver Spring, Maryland, summed it up this way. "I have heard cautiously optimistic all week," said Ackerman, who also serves as vice chair for the American Association for Homecare. "I'm going to move that to optimistic. The stars are aligning in our favor with good leadership; now we need more conversation and less legislation."