ATLANTA – Conveying a company's message and overall design ethos within the relatively confined space of a trade show booth is no easy task. For manufacturers that devote time, effort, and creativity, new booth designs can yield striking results.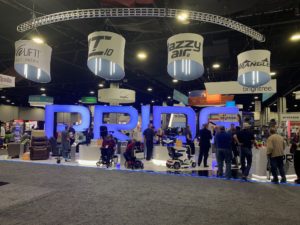 Medtrade attendees who perused the Expo Floor on day two of Medtrade probably looked twice at Pride Mobility's bold new booth. The design theme orchestrated by Rhonda Perko, senior director of Marketing, Pride Mobility, featured a new look, new logo, and new colors.
"We injected new thought into our branding for the baby boomer generation," said Perko, who has an extensive background in graphic design. "Products are up on a pedestal so they don't get lost in the design. The overall result comes from the entire team working with CEO Scott Meuser, who continues to be the champion for this company."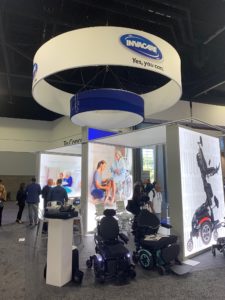 Sandy Habecker, training specialist, Invacare Corporation, sought an environmental feel for a booth design that made its debut at Medtrade.
"We have a bedroom, bath lift, and shower chairs in what is a higher-level product showcase," she said. "It's light and bright with lifestyle photography. One word we've heard a lot is 'wow' when people look at this new booth."
The new booth helped to fuel an energetic vibe that sustained steady traffic throughout the day. "We've had a great day one at Medtrade that has exceeded our expectations," Habecker said. "Medtrade is back. We feel very positive, and we're getting back to a selling show."
The American Association for Homecare sported a new look and feel, one designed to showcase a reinvigorated association. "We're refreshing our whole look in concert with our research-based membership and messaging advocacy," said Gordon Barnes, senior director of Communications. "We're refreshing the brand to reflect the energy of a new generation of HME providers and opportunities within the HME and home care space."
Medline Industries, Northfield, Ill., sported a new booth designed to feature the company's entire continuum of products within the HME world. According to Paul Miller, director of Business Development, the design is a calculated move to show that the selection is diverse, more so than most attendees would suspect.
"We are expanding our role in HME, internally and externally," said Miller. "We even built a temporary HME store at an offsite meeting to familiarize our sales force with the full range of our products. We are a one-stop shop, and we are looking to get re-energized. We want to bring providers to the table and earn the referrals."
The energy that built the new booth has been brought to new partnerships designed to enhance the brand. "We have a new partnership with the U.S. Army," Miller said. "The partnership involves building a logo'd line of rollators and canes with a portion of proceeds to support veterans."