ATLANTA – Attendees who took the multi-hour commitment on day one of Medtrade last week found deep understanding on some crucial issues, as well as a rare chance to explore an increasingly hot issue within society. It's not an obvious fit in the justifiably reimbursement-obsessed world of Medtrade workshops, but did you know that Mindfulness was on offer? Anna McDevitt (pictured), director of Customer Experience for LifeH2H and a registered yoga teacher (RYT-200), led attendees in An Introduction to Meditation and the Power of Sound.
"This is a stretch," said McDevitt, as she described the unprecedented one-hour introductory course that introduced the much talked about concept of mindfulness. "The goal of this workshop was for leaders in the HME community to learn easy ways to incorporate meditation into their everyday lives. Participants spent the first part of the hour together learning some basic principles of meditation, why meditation works, and how using sound can enhance the meditation experience. Next, we put what we learned into practice with a guided meditation, a silent meditation, and meditation with music."
As a Medtrade staff member, I took the road less traveled and found myself sitting on the floor with a small candle as McDevitt and a few brave attendees focused on breathing. Hoping that an open flame violated no OSHA rules, we attempted to meditate in what amounts to a chaotic world. If Anna offers the workshop hour again at Medtrade Spring 2020, I can attest that it's a great way to start the day and offers a glimpse of what the mindfulness hype is about.
In Don't Gamble With Reimbursement, Ronda Buhrmester, director of Reimbursement, and Dan Fedor, compliance director, both from The VGM Group, challenged attendees to play various reimbursement "hands." Should you hold, hit, or stay?
For example, if a patient received a power wheelchair K0823 through Medicare in 2016 and it needed repairs to motors (E2370), batteries (E2362), joystick (E2374) and detachable height adjustable arms (E0973), what should suppliers do?
Stay – Repair and bill all codes for reimbursement with RBmod;
Hit – Repair and bill all codes listed except E0973; or
Fold – Replace the entire K0823 since the cost of repairs is so much.
Do you know the answer? If you didn't, additional multi-hour workshops will take place again when Medtrade Spring convenes March 3-5, 2020, in Las Vegas at the Mandalay Bay Convention Center.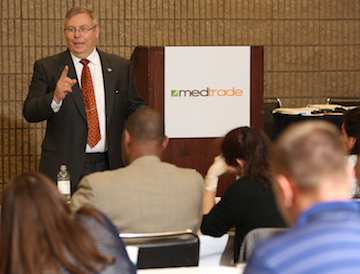 During An Introduction to the Certified Durable Medical Equipment Specialist (CDME), presented by BOC, Jeff Hedges (pictured), president, outlined the info required to come away from Medtrade with the CDME designation.
Brightree customers enjoyed a Best Practice Checklist for Productivity and Management, presented by Kiran Thomas, senior business analyst; Kathy Quehl, senior implementation consultant; and Deb Mills, senior implementation consultant.
Finally, Mike Sperduti, founder and CEO of Emerge Sales, addressed a packed house of more than 140 attendees with this HME Master Sales Training workshop.
Keep an eye on future Medtrade communications for workshops scheduled at Medtrade Spring 2020 in Las Vegas at the Mandalay Bay Convention Center.
Medtrade Spring 2020 SmartSaver Rates Are in Effect
The absolute BEST rates—SmartSaver Rates—are in effect NOW, but only through Nov. 2. 
For those who like to get the absolute lowest rates, go to:
http://registration.experientevent.com/ShowMTH202?Flow=ATTENDEE&MarketingCode= MTMON
As it has been in the last few years, Medtrade Spring will be held at the Mandalay Bay Convention Center in Las Vegas. SmartSaver Rates are only in effect through Nov 2.