LAS VEGAS – Medtrade Spring has once again partnered with key exhibitors/speakers to offer five in-depth educational opportunities the day before the expo begins. These workshops are available as add-ons to a conference or expo pass.
All workshops are held on Tuesday, March 3.
An Introduction to the Certified Durable Medical Equipment Specialist (CDME)
Presented by: BOC
9:00 a.m. – 5:00 p.m.
Speaker: Jeff Hedges, CDME, president & CEO, R. J. Hedges & Association
The Certified DME Specialist (CDME) is a person who demonstrates broad knowledge of the DME/supply industry, including prescription verification, intake process, product selection, dispensing and setup, documentation, billing, compliance, and performance management. This workshop will cover the scope of practice for the CDME. Discover the value of the CDME for facilities in a challenging industry climate and how to market the credential to customers, referral sources, and third party payors. The workshop is being extended this year to include a Q&A session, which is optional.
Certified Durable Medical Equipment Specialist (CDME) Exam
CDME Exam- Wednesday, March 4, 2019, 8:00-10:00 AM
Exam registration is through BOC. To register, create a "MyBOC" account by clicking on Apply for Certification or log in to your existing account. Questions? Contact the BOC Certification Team at cert@bocusa.org or 877.776.2200.
Whole Person Marketing: Fundamental Best Practice Training for HME Marketers
Presented by: Lisa Wells, vice president of Marketing, Cure Medical
12:00 p.m. – 4:00 p.m.
This 1/2-day workshop will explain how to properly support HME customers with physical, social and emotional support through four primary focus areas:
How to Identify and Structure Partnerships with Community Influencers (co-presented with Rollettes founder/media personality Chelsie Hill and Rollettes talent manager/producer Joe Loera;
Clinical Marketing Tactics that Open Referral Office Doors (co-presented with The Seated Nurse, Andrea Dalzell, RN, BSN);
Leveraging Manufacturer Resources for Best Practice Co-Op Marketing (co-presented with Cure Medical VP of Sales Chris Sellwood); and
Creating Advocacy Campaigns that Speak to the Heart and Mind (co-presented with industry lobbyist Madonna Long, NCART Director Mickae Lee).
HME Master Sales Training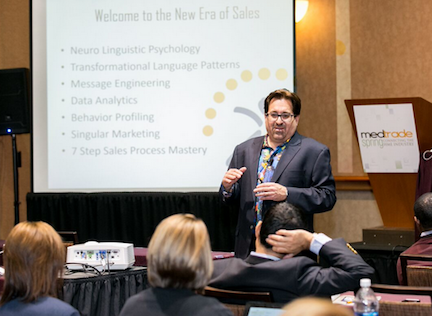 Presented by: Emerge Sales
1:00 p.m. – 5:00 p.m.
Speaker: Mike Sperduti, founder, Emerge Sales
This workshop will cover four topics: Effective Communication Strategies That Generate New Patient Referrals, Cold Calling – The Key to Driving New Patient Referrals & Growth, Getting Inside the Minds of Your Referral Sources So They See You Are the Only Choice for Their Patients, and How to Close the Sale Every Time and Generate Lots of New Patient Referrals.
Create Reports Like a Champion
Presented by: Brightree
12:00 PM – 3:00 PM
Speaker: Deb Mills, Implementation Consultants, Brightree
Open to Brightree customers only
To gain insight into your business you need data that is reported in a manageable way. This 4 hour workshop will focus on best practices for building and managing reports to help you run your business, including the Ad-Hoc reporting tool. Additionally, we will provide basic tips and tricks on how to export and manage the data in Excel to help you gain quick insight into your operations.
Please note: Workshops may be added to an expo pass or a conference pass, additional registration required. Fees vary per workshop.
Wound Care 101: Physiology, Wound Products and Reimbursement
Presented by: VGM
9:00 AM – 12:00 PM
Speakers: Ronda Buhrmester, CRT, CFm, Sr. director of Payer Relations & Reimbursement and Heather Trumm, BSN, RN, CWON, director Wound Care, The VGM Group, Inc.
Wound care is not going away! The demographics tell the story of where wound care is and where it's heading in the DME industry. During this presentation, Heather and Ronda will walk you through the physiology of wound care along with reviewing billing and reimbursement guidelines. Discussion will focus around the most popular equipment in the wound care world which is Support Surfaces and Negative Pressure Wound Therapy.