LAS VEGAS – Medtrade Spring kicks off at the Mandalay Bay Convention Center in just one week. Conference sessions and workshops will be on Feb 27th and 28th. The Expo Floor will be open on Feb 28 and March 1.Organizers are making the show even more engaging this year by revamping the educational session structure to maximize attendee exposure to great ideas, and to better hear the illuminating conversations that add value.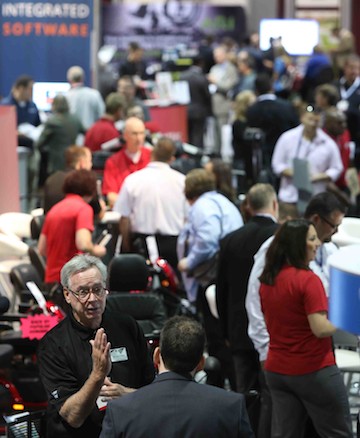 Thanks to a co-location with the Environments for Aging (EFA) show, attendees are getting two show floors for the price of one, plus access to select EFA educational sessions (see Down-Low on the Co-Lo for all things EFA).
Medtrade Spring attendees will find more panel discussions that feature well known speakers (even competitors) freely sharing their best practices. "The overall number of sessions has been cut down to allow for more focused sessions that boost networking, and help to avoid too many competing sessions," says Kevin Gaffney, group show director, Medtrade Spring. "The increased energy in the room will allow for even better collaboration. We are even pondering new seating arrangements in session rooms to foster better audience/speaker engagement and discussion."
Workshops and Educational Sessions
On day one (Feb 27), educational opportunities are plentiful thanks to
in-depth workshops that offer intensive, full-day training from
exhibiting companies. A workshop can be added to the Expo or Conference
Pass registration.
The following workshops will be offered on day one (Feb 27) of Medtrade Spring.
• 9:00 AM – 1:00 PM – Optimize Brightree, Optimize Your Business
Advanced review of the tools, reports, and features designed to manage the business
• 9:00 AM – 1:00 PM – Red is Not the New Black
Recent reimbursement changes have forced DMEPOS suppliers to change business models
• 9:00 AM – 3:00 PM – Intro to the Certified Durable Medical Equipment Specialist (CDME)

The CDME demonstrates broad knowledge of the DME/supply industry
Mike Sperduti's HME Sales Training Workshop
This four-part FREE workshop spans two days at the following dates/times:
• 1:45 p.m. – 2:45 p.m. – Monday, 2/27 (Effective Communication to Generate Patient Referrals)
• 3:00 p.m. – 4:00 p.m. – Monday, 2/27 (Keys to Patient Referrals and New Growth)
• 9:00 a.m. – 10:00 a.m. – Tuesday, 2/28 (Get Inside the Minds of Referral Sources)
• 10:00 a.m. – Noon – Tuesday, 2/28 (How to Close the Sale Every Time and Generate Referrals)
Sixty- and 90-minute educational sessions, on a variety of topics, are
also available on day one. The first session starts at 10:30 a.m. Check
www.medtradespring.com for a complete listing.
Best in Caretailing with Hundreds of Exhibitors
Hundreds of exhibitors will be on hand to show off the newest and most innovative home medical equipment. Find new products and reconnect with familiar manufacturers during Expo Hours, scheduled for 10:00 a.m. – 4:00 p.m., on Feb 28; and 10:00 a.m. – 1:00 p.m., on March 1.
There will again be a New Product Pavilion on the Expo floor, and similar to 2016, attendees will see the most innovative HME products which have been on the market for less than one year. Attendees will vote on their favorites, and these products will be among winners in the Providers' Choice awards.
Last year, Medtrade attendees in Atlanta got a close look at all the award winners. The following awards will also be given out at Medtrade Spring:
• The New Product Pavilion Providers' Choice Awards, sponsored by HomeCare Magazine)
• The Best Booth Award
Networking Events
Attendees looking for additional inspiration are encouraged to go to www.medtradespring.com and add on networking events to their online registration. Networking events may also be added in person at the registration desk if space is still available.
Events are:
• The Audit Happy Hour, from 5:30 p.m. – 6:30 p.m., on Monday, Feb 27
• The Power Lunch, from 11:45 a.m. – 1:15 p.m., on Tuesday, Feb 28
• AAHomecare's Stand up For Homecare Reception, Tuesday, Feb 28, 5:30 p.m. – 7:00 p.m.
Click Here to register for Medtrade Spring.