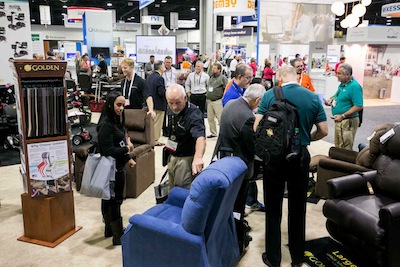 ATLANTA – Many people ask themselves if traveling to Medtrade (scheduled for Oct 23-26, 2017 at the Georgia World Congress Center in Atlanta) is worth the investment. We say absolutely. There are many reasons to make the trip, but here are five.
1) All retailers should have access to Golden Technologies' staff and company management. The Golden management team is on the show floor, including our company owner and CEO, Rich Golden; our founder and vice president of Research & Development, Fred Kiwak; and vice president of Sales, Jason Davis. Inside sales, customer service, technical service, production, purchasing, and accounting are some of the departments represented at a Medtrade show. We are looking forward to meeting you and building relationships. It's always helpful to put together names with faces. We are proud to stand together to make sure our retailers feel the various departments serve them well. Every person at Golden is eager to meet and work with our retailers.
2) Our retailers like to see and share ideas. Shows are all about new concepts, new products, and fresh ideas. Some of our best product ideas came from feedback at the show. Shows inspire creative thinking and problem solving. We use this opportunity to poll retailers on new ideas and preview concepts we think could thrive at retail. We also love hearing new ideas from our retailers. Many share what works and what doesn't work, helping us ensure that we're driving concepts in the right direction.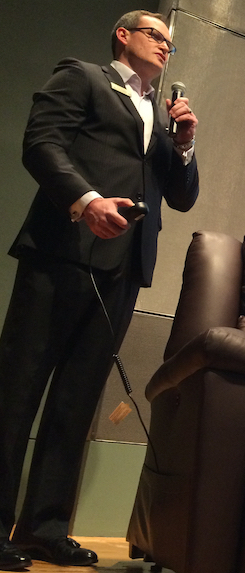 3) Our retailers like to collaborate with each other to solve problems. We love the networking that takes place at this premier industry event, and we see the value in collaborative discussions to build your business. I see so many of our retailers meeting each other at our booth to catch up on industry news, talk about marketing plans, and compare notes on how to build retail strategies. We think these are key reasons to make the trip.
4) Our retailers know they need to take time out to learn. On the job learning takes place in every business every day. All of us have so much "on site" experience. But nothing can replace taking that experience to a show to apply it to new products, services, and concepts. Imagine a day with no "fires," uninterrupted brainstorming meetings, and introductions to new concepts. Many of our ideas come from simply listening to our retailers, making presentations during the show, and kicking around ideas at the booth throughout the show. Thinking about your business in the context of a show, or at an educational conference during the show, drives a new kind of vigor to inspire and create.
5) Our retailers like to be first to see and buy the latest new retail concepts. The Golden teams work all year to drive new ideas, concepts, products, and programs to be introduced at the show. Retailers who make the trip are the first to see, hear, feel, and touch anything new with Golden. Some ideas don't make it out of the show because they're voted down based on direct feedback from our retailers. So, those who attend and visit with Golden help shape our future.
Medtrade is an important industry event. Collaboration is the key to success in any situation, and this applies to industry events, too. Events are what you make of them, and here at Golden, we believe that the Medtrade show is not to be missed. Let us know if you plan to attend and look for a special announcement about something that might only take place at the show this October.
Charles J. Copley is executive vice president, Sales and Marketing, Golden Technologies Inc, Old Forge, Pennsylvania.