ATLANTA – Whether you call it retail, caretail, or cash-based business, interest was on the rise at last month's Medtrade. The good news for providers looking to boost their cash business; you don't have to do it all at once. Instead, VGM's Rob Baumhover and Maria Markusen (pictured) told Medtrade attendees that it's perfectly fine to gradually offer "additional incremental products" to the business.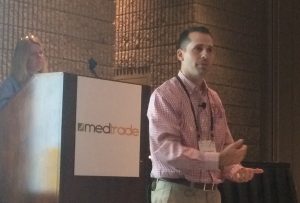 During their Oct 24 educational session (The First Step in Transitioning Your Product Assortment to Retail) at Medtrade, VGM's retail gurus encouraged providers to single out their best-selling products—CPAP machines, hospital beds, power mobility, or any other reimbursable products. From there, determine what products can be sold in addition to that reimbursable anchor product.
"If you're not selling add-on products for cash, you're missing out on hundreds of thousands of dollars every year in additional revenue," said Baumhover, a former veteran of the big box retail world who now serves as director of Retail at Iowa-based VGM. "There is great opportunity for us to offer service and an experience."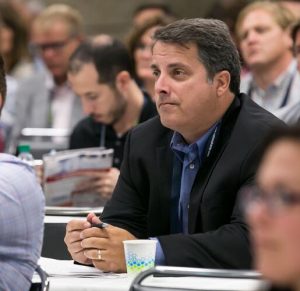 Baumhover used the Build a Bear retail experience as an example of a business that skillfully builds on extras way beyond the standard teddy bear. It may not be a medical product, but the lesson of using a core product to add three to five accessories applies to any business. "If it's bath safety, what are five or six products you can add," he asked. "With CPAP products, you can add CPAP wipes, pillow cases, pillows, and other cleaners…If you don't recommend it, customers can't say yes."
Baumhover and Markusen pointed to examples of providers who generated an additional $204K of additional revenue with these types of CPAP accessories. Yet another provider added $94K of additional yearly revenue by adding plush bed pads, bed sheets, and over-the-bed tables to hospital bed purchases. "Start with a couple categories—pain management is another—and grow your business from there," said Markusen. "Have two or three buttoned up, and see what it does to your bottom line."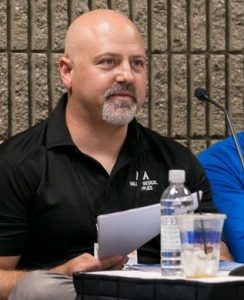 In yet another retail-focused panel discussion (Agressively Moving Into Retail) at Medtrade, Tim Rutti (pictured left), owner of Valley Medical Supplies, Phoenix, Arizona, shared some sage advice. "We started in June 2016 with zero experience. You have to take a lot of risk, and I gained a lot from my manufacturer partners. Manufacturers really stepped in (for training). Manufacturers are trying to support you…We got a 3,600-sq-ft space, and eight months in we needed more space. We now have 5,000 square feet, with 4,300 of retail square footage. The more selection and assortment you have, the better you do.  We have had 30% increases month over month, and we were already doing 50% month over month…Don't have people sitting in the back at a desk. Don't look like you are unattainable and busy. Be engaged. 
"My staff is within 20 feet of any customer in the shop— and we take about 7 seconds to engage the customer. Have your space be as much of a square as you can get, and as big of a space as you can get. Retail space is expensive. Bite the bullet and go for it. Eat the cost and get a good location with good flow even though the rent is exorbitant.
"If you're off the beaten track, it's all about advertising. We spend a lot on Google Advertising. Facebook and Yelp are good, but Google has been great. And you can measure the ROI. I can see where my leads are coming from and how successful we are.  We have had 4,200 web site visits and 80-plus phone calls to the store that lead to actual in-person visits. 'Ghosting' leads to people who continue to see your ad. I am paying somebody to do that. I have nine campaigns going on which is great, as long as there is ROI. I can make cuts and reallocate funds. Having a pro do it is great."
VGM Calls for Heartland Conference Speakers
WATERLOO, IA – VGM officials are now accepting proposals from prospective speakers for the 17th annual Heartland Conference. With more than a dozen education tracks to fill, conference organizers are looking for presenters to offer their expertise on a variety of topics, including business leadership and management, retail, sleep and respiratory, rehab, operations, sales and marketing, home accessibility and regulatory to name a few. Speaker proposals for Heartland Conference are due Nov 22. Those interested should visit www.vgmheartland.com/speak to complete the online form, or contact Heartland Education Chair Jill Blaser at Jill.blaser@vgm.com or call 855-755-6922.