ATLANTA – Imagine you or your sales team being able to communicate so clearly and concisely that referral sources and patients can't resist doing business with you. Imagine writing and presentations skills that are so powerful they help give you the business over your competition. When you decide to register for the Mike Sperduti HME Sales Mastery Workshop, you will learn those skills and choose to be among the best in the HME industry.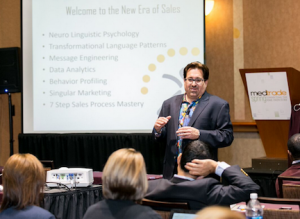 And now, thanks to the Playmaker sales platform for HME, you can train your entire team as a complimentary Medtrade add-on. In other words, train your entire team for free. If you register today for The HME Sales Mastery Workshop, Playmaker will pick up the $399 per person fee. However, you need to register now. Only 100 tickets are available. To make this even a cooler promotion, Playmaker is holding a free cocktail party immediately after the Workshop for all attendees.
This is the must-attend session of Medtrade for all owners, executives, and salespeople. With the proven 7-Step Sales process, you'll make sales calls, write letters, and send e-mails that few can resist. You will be able to create compelling value propositions that naturally and easily let your customer see, hear, and feel that you are the right choice for their business. You will be equipped to conduct meaningful conversations that outshine the competition and give your customers the confidence and trust that you will take care of them.
If you choose to register for the Mike Sperduti HME Sales Mastery workshop now, you will gain new skills that will produce immediate results and you will command a higher income from all the new business you generate.
The 7 Step Sales process is recognized as the best training program in the HME Industry.
Watch this video and see what you will experience when you train with me.
As you read this letter from Kristen Donnelly of Acceleron Medical, you will understand how this will impact your business and decide to register for the Mike Sperduti HME Sales Mastery Workshop now before it sells out. "The 7 Step Sales Process was an excellent course in how to be a superstar sales professional. The class was designed to make you take a look at how you are selling and catapult you into stardom. The 7 Step Sales Process taught me how to effectively communicate with people using their different learning styles (personality types). Mike also taught me to customize every sales call to the clients' needs by profiling them correctly, this entails finding out how many people in the office, what type of patients they serve, I would not call on pediatricians the same way I would obstetricians. I also learned that making appointments is well received with offices as the decision maker will carve out time for you, which will mean you can give them a more personal call. According to Albert Einstein, the definition of insanity is doing the same thing over and over and expecting different results. Well before taking this course I was insane; I showed up to physicians' offices with no appointment, told the office manager or physician why my company and product was so great and left my paperwork. After taking this course, I am on the way to becoming a superstar sales professional, I have learned to build good rapport with referral sources and communicate effectively both professionally and personally."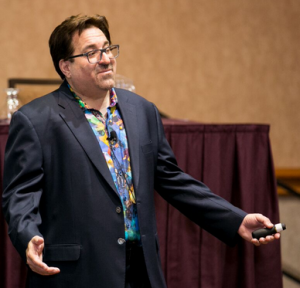 I am calling out to you if you want to be the best. I am calling out to the fearless who want to push themselves to achieve excellence. I am calling out to all agents of change who see opportunity in this new era of healthcare. Competitive Bidding, cash pay sales, and decreasing margins have created a chaotic business environment. Now is the time to capitalize on that chaos and Emerge.
If you decide to register for the Mike Sperduti HME Sales Mastery Workshop, it will be the best decision you make for your business. Now when you think about it, you can look forward to Medtrade and have every reason to say "yes" and register your sales team, train them to be growth machines, and enjoy a nice adult beverage. See ya soon!
HME Master Sales Training at Medtrade is a complimentary add-on at Medtrade, made possible by exclusive sponsorship from PlayMaker, a sales platform for post-acute care. The training workshop is set for Monday, Oct. 23, from 9:00 a.m. to 3:00 p.m., in Room C210 at the Georgia World Congress Center.