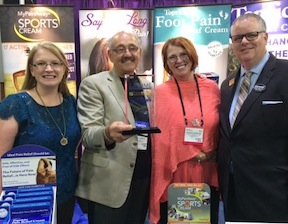 ATLANTA – Several manufacturers earned awards at the recently concluded Medtrade. The top three vote getters in the biannual Innovative HME Retail Product Awards, sponsored by HomeCare Magazine, were:
1) MyPainAway Fibro Cream from Topical BioMedics (upper left: company founders accept award at Medtrade 2016). MyPainAway is an odorless, grease-less cream that brings a soothing combination of natural biomedicines to rapidly relieve Fibromyalgia pain.
2) The SoClean® 2 CPAP Sanitizer (also known as SoClean®) from So Clean is described by marketing director Jessica Cormier as "the world's first automated CPAP sanitizer, and is the faster, easier, more effective way to clean CPAP machine equipment."
3) The Tour (Walker) from Motivo is a walker/rollator that provides greater independence, ergonomics, and personal style.
The eight finalists (in alphabetical order) for the Innovative HME Retail Product Awards were:
1) Freedom CPAP Battery from Battery Power Solutions
2) Handy Cane from Handy Cane by Most Corporation
3) KT Flex Reinforced Adhesive Strips by KT Tape
4) Motivo Tour (Walker) by Motivo
5) Go-Chair from Pride Mobility
6) PrimeMedic from PostureMedic
7) SoClean from SoClean Inc
8) MyPainAway Fibro Cream from Topical Biomedics
The New Product Pavilion Providers' Choice Awards (sponsored by HomeCare Magazine)
* Providers' Choice Gold Award went to the StandUp Walker from URise Products (Gary Kabot, chairman and CFO, URise Products, pictured right).
* Providers' Choice Silver Award went to the Handy Cane from the MOST Corporation.
* Providers' Choice Bronze Award went to the Avid Rehab Vector Power Chair from Merits Health Products Co Ltd.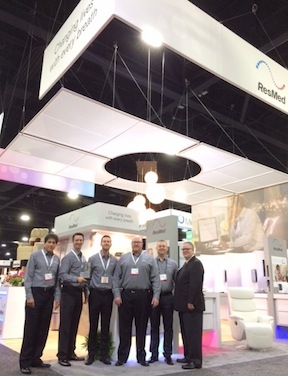 Booth Awards
• The Creative Concept Booth Award went to Stander Inc for its formal red carpet theme designed to celebrate the Utah-based company's new Signature Life products.
• The Best Booth Award went to ResMed (pictured left) for its dramatic lighting, creative spacing, and large-form lifestyle murals/digital displays that showed products in action.