ATLANTA – As the DME industry expands, BOC is a credentialing resource designed to help experienced individuals and newcomers stand out from the competition. If you're looking to strengthen your resume and assure employers and patients of your expertise, consider learning more about becoming a BOC Certified Durable Medical Equipment (CDME™) Specialist at Medtrade.
Attend the "An Introduction to the CDME" workshop on Monday, Oct 21 from 9 a.m. to 5 p.m., which will also prepare you to take the exam on Tuesday, Oct 22. Although taking the exam at Medtrade is optional, statistics show candidates have a 92% pass rate when completing the exam directly after attending the workshop.
To enroll in the workshop, register for Medtrade and add the workshop in the "Your Events" section of the registration process (BOC presenter Jeff Hedges, pictured right).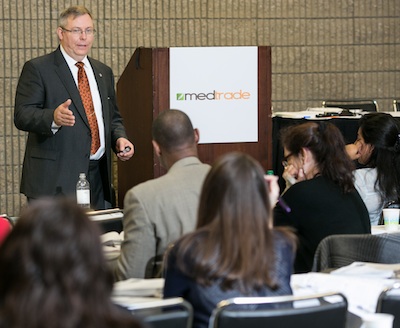 Why Become a BOC CDME?
A CDME is qualified to handle basic repairs, troubleshooting and home inspections for DME products such as oxygen, transfer systems, enteral supplies, and wound care. Medicare's human resources management standards require technical personnel to be knowledgeable, competent, and trained to deliver products. A CDME meets these standards and provides consumers with a sense of confidence. The CDME's safe practices offer additional assurance of compliance for DME suppliers.
Earning this certification also provides:
differentiation in the marketplace and a competitive advantage;
professional credibility;
a demonstrated commitment to your profession;
an assurance of your DME expertise to patients, referral sources and payers;
proof that you understand management of risk in providing DME; and
an understanding of limiting fraud, waste and abuse.
To be eligible to take the BOC CDME exam, you must have a high school diploma or equivalent. You must also have a verifiable minimum of 500 hours (approximately 13 weeks of full-time work) of documented experience at a DME facility. To register for the exam at Medtrade, visit MyBOC (my.bocusa.org) and create an account.
Choose event code "OCTB19CDME" – Medtrade 10/22/19 (paper exam) DME Specialist Certification. The application fee is $25 (a 50% discount!) and the exam fee is $100. Medtrade is scheduled for Oct 21-23, 2019, at the Georgia World Congress Center in Atlanta.
Questions? Call BOC toll-free at 877.776.2200 or email cert@bocusa.org.
Matthew Gruskin, MBA, BOCO, BOCPD, is BOC's credentialing director.