WASHINGTON, DC – HME providers and manufacturers are urged to express their support for Protecting Access through Competitive-Pricing Transition Act Legislation that lessens the impact of forthcoming cuts to reimbursement rates for HME in rural communities. The bill was introduced last week in the U.S. House of Representatives.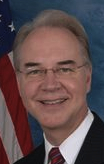 The new bill, H.R. 4185, the Protecting Access through Competitive-Pricing Transition (PACT) Act, introduced by Reps Tom Price (R-Ga) [pictured] and Tammy Duckworth (D-Ill), will protect access to these essential products for patients in rural communities across the nation. 
"This new legislation recognizes the unique challenges and expense associated with serving patients in less-densely populated areas nationwide," said Tom Ryan, president & CEO of the American Association for Homecare. "Without this relief, many rural home medical equipment providers will be forced to consider closing their doors or reducing the range of products they offer."
"Seniors in rural areas, as well as individuals with significant disabilities and chronic conditions, are fortunate to have Congressman Price and Congresswoman Duckworth on their side," added Ryan.  "Their leadership in crafting and introducing this legislation will help individuals in these vulnerable populations to stay in their own homes, reduce hospital visits, and remain active in their communities."
AAHomecare urges HME providers, patients, manufacturers and other stakeholders to express their support for this legislation to their Representatives as soon as possible, as well as for S. 2312, the DME Access and Stabilization Act, the recently-introduced Senate companion legislation that shares many of the same provisions as H.R. 4185.
The legislation is especially timely, given plans by CMS to apply prices derived from their competitive-bid pricing plan nationwide, subjecting suppliers who did not have the opportunity to participate in the bidding process to reimbursement reductions averaging 45% for many products. CMS plans to begin implementation of these new cuts starting Jan 1, 2016. H.R. 4185 includes provisions that:
• apply a 30% positive adjustment to single payment amounts (SPA), calculated on a regional basis for suppliers in non-bid areas;
• provide a two year phase-in period for bidding derived pricing for non-bid areas;
• set the ceiling for future bidding rounds of the competitive bidding program at the unadjusted fee schedule rates in effect on January 1, 2015, instead of CMS' proposal to set a bid ceiling at the previous bid amount rates;
• instruct CMS to revisit pricing adjustments for non-bid areas that takes into account travel distance, clearing price and other associated costs furnishing this equipment for prices that will be in effect on January 1, 2019; and
• implement a two-year Market Pricing Program (MPP) demonstration project to compare an alternative methodology for achieving sustainable savings while preserving access to medically necessary equipment, supplies, and services to beneficiaries. It will include the same DME items as the Competitive Bidding program, require binding bids, weigh historic capacity of bidders, and determine price based on the clearing price. A separate auction for diabetes testing supplies will occur as well in two states.
Additional co-sponsors at introduction included Reps. Marsha Blackburn (R-Tenn), Rod Blum (R-Iowa), Peter King (R-NY), David Loebsack (D-Iowa), Cathy McMorris Rodgers (R-Wash), Tom McClintock (R-Calif), Kristi Noem (R-SD), Phil Roe (R-Tenn), Tim Ryan (D-Ohio), Scott Tipton (R-Colo), and Ryan Zinke (R-Mont).
Click Here to see a full array of options for contacting Congress to lend your support.