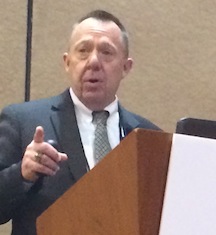 WASHINGTON, DC – Companies on the first-tier size category of AAHomecare membership ($600k or less in annual HME revenue) can get 25% off your membership dues when you sign up and pay for two years membership on site at Medtrade – $825 total for two years (normally $1,100) – plus they will throw in Nov. & Dec. 2016 for free. Stop by the AAHomecare booth (#1817) on the show floor or contact Mike Nicol @ michaeln@aahomecare for more details.
Payer Relations Questions Answered at the Booth
WASHINGTON, DC – AAHomecare's Laura Williard will be available on Wednesday, Nov. 2, 1:00-4:00 PM (Booth #1817 on the Medtrade show floor) to Medtrade attendees to answer payer relations questions, discuss the changes taking place in the industry, and provide helpful hints for contract negotiations. If you are struggling with the domino effect we are seeing from the cuts associated with competitive bidding, take this opportunity to speak with an AAHomecare expert and get meaningful information to help your business move forward with diverse payers.