ELYRIA, OH – Leader. Advocate. Legend. Icon. Those are just a few of the terms that Mal Mixon's friends and colleagues are sharing as news of his passing on November 30 moves through the home medical equipment community.
A Vietnam veteran and Harvard Business School graduate, Mixon leveraged a buyout of wheelchair manufacturer Invacare and subsequently grew the company's sales from $19 million to nearly $2 billion, developing a global presence that served suppliers in 80 countries. During that growth, he was deeply involved in the legislative and regulatory issues impacting the HME industry.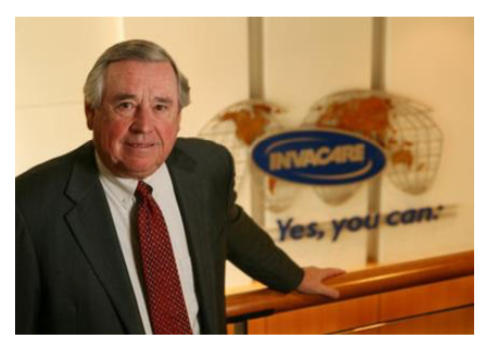 "I realized nobody was representing my industry in Washington," Mixon explained in his autobiography. "So, I started to get active, holding fundraisers and so on. I got involved deeper and deeper. I became close to some politicians — both Democrats and Republicans. I just wanted them to see the issues as I saw them."
AAHomecare recognized Mixon for his leadership and impact on HME policy issues in 2015, renaming the Association's Legislative Advocate Award in his honor.
"Mal Mixon had an incredible impact on this industry," said Tom Ryan, AAHomecare president & CEO. "He channeled his passion and business to build Invacare into an industry leader and yet still had energy to spare to take on leadership roles to the benefit of the entire HME sector."
"Mal was great friend and source of support to me personally going back to my days as an oxygen supplier," recalled Ryan. "My company was an early adopter for new technologies, and we were a large Invacare oxygen HomeFill system provider.  We had an aggressive goal to replace all of our ambulatory oxygen patients with Homefills, and Mal took the time to come out to my New York office personally to see first-hand how this was going."
"Mal helped us move forward by providing a creative financing program and a great co-op advertising program where all our delivery vehicles were wrapped in Homecare Concepts/Invacare HomeFill advertising," Ryan continued. "Mal knew that getting visibility for his brand throughout the New York area on a daily basis while helping me grow my business would ultimately benefit us both. It was the kind of creative thinking I would see again and again in my relationship with Mal through the years."
"Mal played a leading role in strengthening our industry's presence on Capitol Hill," Ryan added. "He had an innate ability to connect with policymakers and make sure that they understood and appreciated our industry's priorities. I learned a lot by watching Mal interact with Congressional leaders at fundraising events, and I saw how he inspired other individuals to become more actively involved in policy efforts.
"Mal was a giant and an icon in our industry," Ryan concluded. "I'll remember him as a great friend and an inspiring leader."
Mixon is survived by Barbara, his wife of 58 years, along with two children and nine grandchildren. In lieu of flowers, the family would appreciate gifts to the Cleveland Institute of Music, 11021 East Boulevard, Cleveland, OH 44106. Interment will be private, and a celebration of life will be held post-COVID. Additional information, complete obituary and guestbook can be found at Brown-Forward.com.
HME Leaders Share Their Memories
Joel Marx – chairman, Medical Service Company: Mal was a leader within the industry, his business, and his community.  He was a generous man who shared his leadership and wealth in both public and private ways.  He was a strong supporter of numerous organizations within the Cleveland community, personally supported non-profit organizations that were important to me, and made a habit of backing entrepreneurs early in their careers.  He invested in people and relationships – financially and personally.  Cleveland and our industry has lost a leader and friend.  Our condolences to Barbara and family.
Joel Mills – chief people officer and regional president, AdaptHealth: Mal was an industry legend.  He saw the value of working with a national association to support the industry and understood that a strong association advocating for the industry would be good for HME providers and that, in turn, would be good for his business.  Beyond that, he was a great individual and a leader who developed the dominant manufacturer in our industry at that time.  He will be missed!
Tim Pontius – chief compliance officer, 1 Natural Way: Of all the manufacturers we worked with over the years, both here in Ohio at OAMES and also with AAHomecare, Mal had the most fire and passion. He believed in the value of the service that HME providers delivered and how that truly made our industry so valuable to home-based patients. I was invited to attend several legislative fundraisers he and Barbara hosted at their house. He facilitated some great discussions and even developed friendships and relationships with some of these legislators that we would have never made on our own. Mal loved Cleveland and Ohio as well. He once told me he was proud to see so many of us take leadership roles at the national level.  My best memories will be having some good wine and a cigar out in his back yard after those fundraisers. We will ALL miss you, Mal.
AAHomecare Shares DMEPOS Rule Comment Guidance
WASHINGTON, DC – AAHomecare is currently developing comments to the recently released 2020 DMEPOS Proposed Rule that recommends changes to DMEPOS fee schedule methodology, HCPCS Level II coding application, and other DMEPOS focused issues. For a review of the proposed rule, see the issue summary and related article in the Nov. 4 AAH Insider.
Although the comments are not due until January 4, 2021, AAHomecare is aiming to complete the comments ASAP to help ensure our opinions are considered in the development of the final rule. We encourage members interested in submitting comments to also submit them prior to the due date. Below are some key points included in AAHomcare's comments:
CHANGES TO THE DMEPOS FEE SCHEDULE METHODLOGY
– Support the proposed 50/50 blended rates in rural and non-contiguous areas.
–  The current rates in CBAs are unsustainable.  CMS needs to increase the rates for former CBP items in CBAs.
–  CMS should adjust rates in non-CBA, non-rural to maintain the 75/25 blended rates that exist in these areas during the PHE.
HCPCS LEVEL II CODING APPLICATION
–  CMS should not set a limitation on the number of times an applicant can resubmit an application.
–  If an extension is needed to review an application, the extension should be limited to only one review cycle.
–  CMS should recognize the need for HCPCS codes beyond FFS Medicare; both commercial plans and Medicaid have needs, such as pediatric equipment and supplies.
EXCLUSION OF COMPLEX REHABILATATIVE MANUAL WHEELCHAIRS AND CERTAIN OTHER MANUAL WHEELCHAIRS FROM THE DMEPOS CBP
–  AAHomecare recommends CMS to permanently exempt CRT manual accessories from Competitive Bidding pricing.
AAHomecare will also be commenting on other sections of the proposed rule. We will share the completed comments with membership once it is finalized. You can submit your comments at Regulations.gov.
Medicare Supplier Data Shows Very Little Change in 2020
WASHINGTON, DC – AAHomecare updated the supplier number tracking sheet with October 2020 data. The tracking sheet reveals a slight increase in the number of locations in 2020. We estimate there are about 9,296 traditional Medicare DMEPOS locations across the country, which is about 100 locations higher than what we reported in January 2020.
Overall, our data is not showing a surge of new traditional DMEPOS suppliers due to the enrollment waivers put in place during the COVID-19 Public Health Emergency.   However, sources at the NSC have indicated approximately 700 supplier numbers have been issued during the PHE.
Our updated analysis continues to show a 29% decrease in unique supplier companies and 28% decrease in supplier locations since 2013. To see more state-specific numbers, you can find AAHomecare's supplier number tracking sheet and "heat-map" here.
Congressional Departures Include 42 Members Who Supported HME Advocacy Priorities
WASHINGTON, DC – Forty-two legislators who co-sponsored HME priority legislation or endorsed an industry supported sign-on letter in the 116th Congress will not be returning when the new session convenes in January 2021.  The departing legislators include three Senators and 39 House members who did not win re-election this November, retired, or had left Congress earlier in the term.
The numbers include 15 of the 83 House members co-sponsoring HR 2771 and 26 of the 180 House members who joined a sign-on letter that helped convince CMS to remove non-invasive ventilators (NIV) from Round 2021 of the bidding program.  The complete list of HME advocates and which legislation or sign-on letters they supported can be found here.
In addition, Rep. Roger Marshall (R-Kan.) [pictured], who supported multiple HME priorities in the last Congress, is moving over to represent Kansas in the Senate, while Sen. Kamala Harris (D-Calif.), who supported the Senate NIV sign-on letter, is set to become Vice President.
With more than 60 new members of Congress to take office on January 3rd, HME advocates will have both the challenge and the opportunity to educate new lawmakers on the need for sustainable reimbursement and sensible regulatory policy for our industry, and build on the successes of 2019 and 2020.