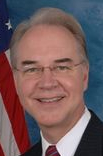 WASHINGTON, DC – Congressman Tom Price,
MD (GA-6) has been elected to serve as Chairman of House Budget
Committee for the 114th Congress. Price has been a long-time champion of
the homecare industry, serving as a primary sponsor for H.R. 1717, the
Medicare DMEPOS Market Pricing Program Act of 2013. "In years past, the
House Budget Committee along with the House of Representatives as a
whole have drafted, debated and adopted bold budgets that have staked
out a path to greater American prosperity. In the next Congress, we will
build upon that success. We will put forward a budget that restores
balance to the nation's books. It will provide a blueprint for how to
save and strengthen vital health and retirement programs while ensuring
needed resources for those who protect and defend our great nation,"
said Price in a press release last week.
AAHomecare Attends Reception for New Congressional Members
On Monday, Jay Witter and Mina Uehara attended a reception hosted by Minority Whip Steny Hoyer to help
welcome the new Democratic Congressional Members. Jay and Mina spoke
with Whip Hoyer and were introduced to all the new members. Reps Debbie
Wasserman Schultz and Joe Crowley were also in attendance. The 114th Congress will convene on Jan. 6, 2015.

WEBINAR: Aggressively Moving Into the Retail Market While Avoiding Legal Pitfalls
Thursday, Dec 4, 3:00pm ET
Cost: $99 member / $129 non-member
This program will discuss the federal and state requirements that the DME supplier must meet as it sells DME at retail. These requirements include state licensure, collection and payment of sales and/or use tax, qualification as a "foreign" corporation, obtaining a physician prescription, and complying with federal and state telemarketing rules. In addition, the program will discuss how the supplier can sell Medicare-covered items at a discount off the Medicare allowable. Register here.
Presented by: Jeffrey S. Baird, Esq., Brown & Fortunato, P.C.
WEBINAR: Oxygen: Restarting the 36 Months, Pre-Screens, Use of Concentrators and Other Hot Issues
Thursday, December 18, 2:30pm ET
Cost: $99 member / $129 non-member
This program will discuss a number of legal issues, including the following: (i) When a supplier takes over oxygen patients from another supplier, when can the new supplier re-start the 36 month rental period? (ii) What constitutes abandonment? (iii) What happens to the oxygen patients when a supplier files bankruptcy? (iv) Can a supplier provide free pre-screens to prospective patients? How about to existing patients? and (v) Can a supplier allow a patient to use a concentrator until the patient undergoes an oximetry test? Register here.
Presented by: Jeffrey S. Baird, Esq., Brown & Fortunato, P.C.