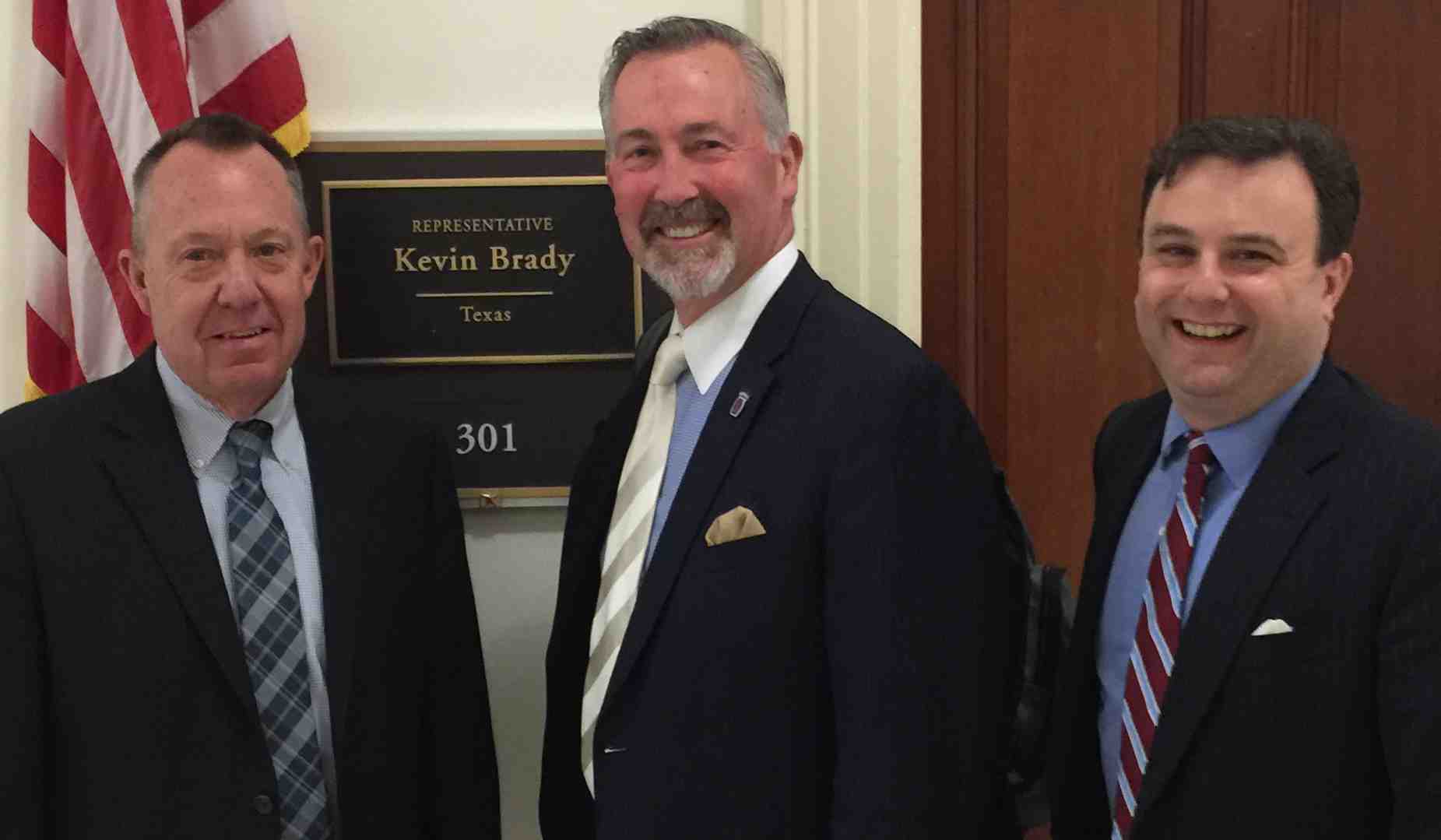 WASHINGTON, DC – With both the House and Senate in session and just over two months left before a second round of deep cuts for rural and non-bid areas is set to take effect, AAHomecare staff and senior government relations representatives from AAHomecare members VGM, Apria, Invacare, and Pride Mobility have been busy working the halls of Congress, meeting with or attending events with these key legislators since just last Thursday:
Senate: Rob Portman (R-Ohio), Jon Tester (D-Mont.), Orrin Hatch (R-Utah), Thad Cochran (R-Miss.)
House: Kevin Brady (R-Tex.), Kurt Schrader (D-Ore.), Adrian Smith (R-Neb.), Renee Ellmers (R-N.C.), Diana DeGette (D-Colo.), Gene Green (D-Tex.), Chris Collins (R-N.Y.), Pat Tiberi (R-Ohio), and Bill Johnson (R-Ohio).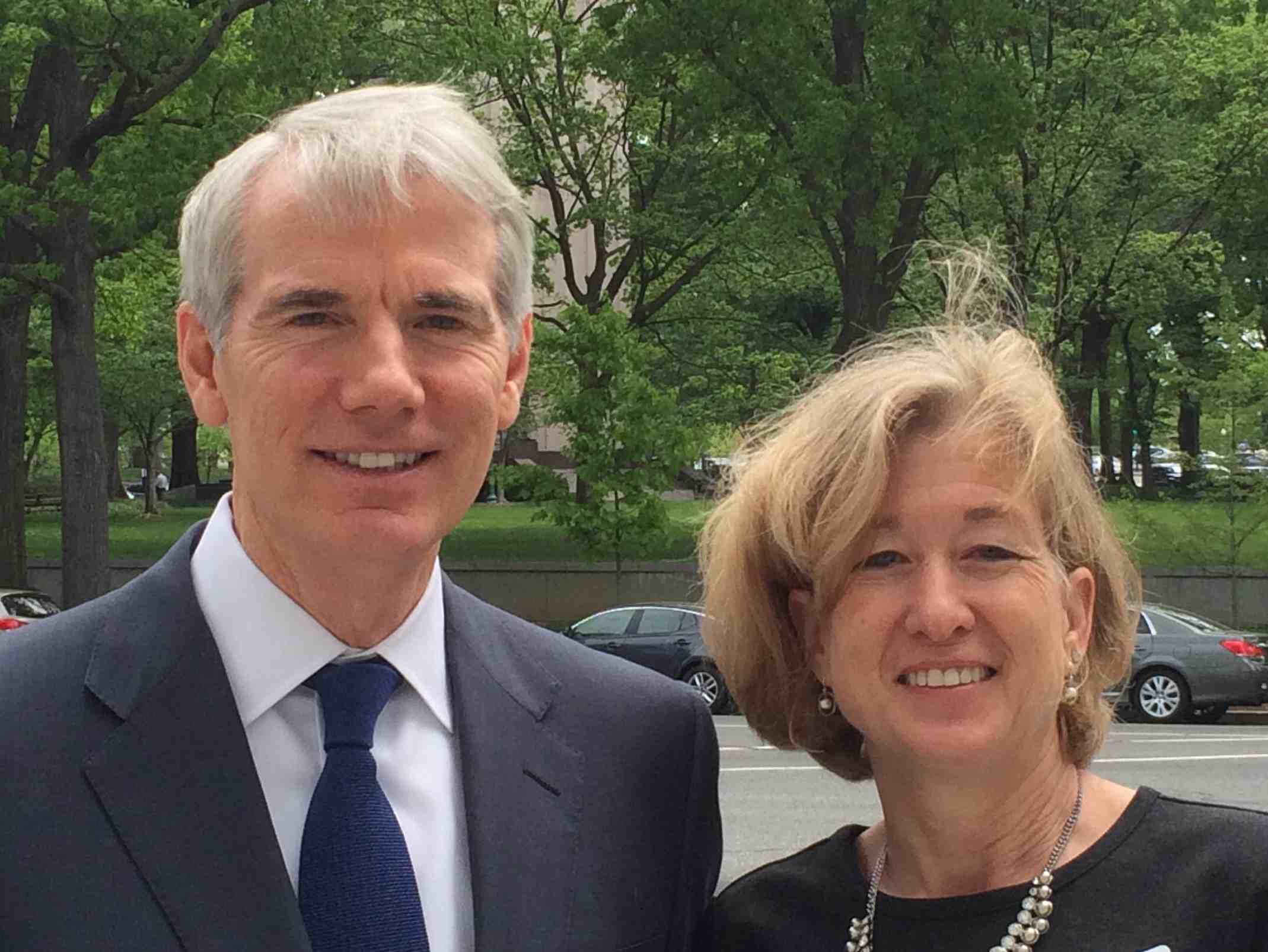 Tom Ryan and Jay Witter from AAHomecare were joined by John Gallagher, vice president of government relations for VGM, (pictured above), Bill Guidetti, executive vice president, East Zone for Apria Healthcare, Cara Bachenheimer, senior vice president of government relations for Invacare Corp (seen at right with Sen. Portman), and Seth Johnson, vice president of government affairs for Pride Mobility, for a whirlwind of meetings focused on building support for S. 2736, the Patient Access to Durable Medical Equipment Act of 2016 and for expected House companion legislation.
Help AAHomecare amplify the work being done in DC by contacting your legislators and ask that they support legislation that will allow for careful assessment of how the first round of cuts are affecting seniors and people with disabilities or chronic conditions before further reductions are made. Personal contact with your legislators' offices is the most effective way to make your case; you can find contact information in our congressional directory. You can also quickly send a message to your legislators here.
Want to take your concerns directly to your legislators? See how you can support our DC-based lobbying efforts and help make the case for better HME public policy at next month's Washington Legislative Conference, noted below.
Washington Legislative Conference (May 25 – 26)
WASHINGTON, DC – Now is the time to step up and get involved with the legislative process. Members of Congress need to understand what is at stake for the HME community, and HME providers are the ones to help explain it to them.
AAHomecare will work with providers to schedule the right appointments. Once you get here, you'll have access to homecare's top experts, who will help you understand the details of the key issues during a day-long series of seminars. AAHomecare will also provide tips on the best ways to establish working relationships with members of Congress, give handouts to leave behind in Hill offices after appointments, and then follow-up with those offices to reinforce your message.
Location
The Washington Court Hotel • 525 New Jersey Ave., NW • Washington, DC
1-800-321-3010 | 202-628-2100 – ask for American Association for Homecare rate or reserve your room online, using promo code AAH0516 (0 = zero)
Single $299 | Double $319 – rates guaranteed through Friday, May 6
Tentative Schedule
May 25
12 noon – Lunch & keynote address
1:00-5:00 pm – Issue education & Congressional speakers
6:00 pm – PAC fundraising reception
May 26
8:00-9:00 am – pick up leave-behing materials for Hill meetings
9:30 am-4:30 pm – Capitol Hill meetings
5:00-6:30 pm – Capitol Hill reception
Registration
Fees: Members – $99
Non-Members – $149
HME Audit Key 2nd Quarter Data Period Entry Opens April 15
WASHINGTON, DC – Be a part of the data-driven campaign to advocate for much-needed improvements to the audit process and see how your company stacks up in terms of audit volumes and appeal overturn rates.
Enter your First Quarter 2016 audit data now. If you didn't participate in the first data entry period (4Q 2015), you can still register and participate in this next round – visit HMEAuditKey.org to register and learn more.
You can find presentations here that show you how to get started and enter your data. Results from the 4Q 2015 round will be available shortly.