WASHINGTON, DC – AAHomecare officials report that a post-Legislative Conference Surge has pushed the total of H.R. 5210 cosponsors to 90. With Congress now back in session after their Memorial Day recess, the official co-sponsor list for H.R. 5210, The Patient Access to Durable Equipment (PADME) Act, was updated, adding 18 new names to the list.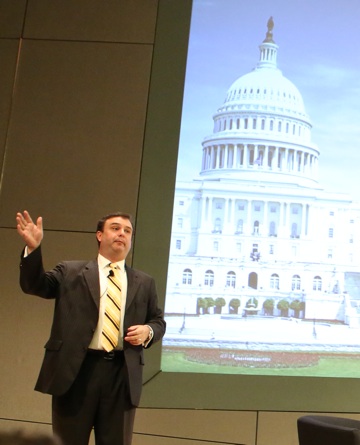 AAHomecare officials are asking: Is your Congressman on the list? Did you meet with an office at legislative conference that indicated they would co-sponsor, but haven't yet followed through? Use the Congressional directory to find contact information, and give them a call today. As noted before, additional Democratic support, as well as more co-sponsors from the Energy & Commerce Committee and Ways & Means Committee will be especially helpful. With the House set to recess on June 24, there is no time to lose.
Congressman Price Rallies Support for Rural Relief Legislation at House Hearing
WASHINGON, DC – Congressman Tom Price (R-Ga.) made a compelling case for H.R. 5210 last week at a House Ways & Means Health Subcommittee hearing on Legislation to Improve and Sustain the Medicare Program. In his remarks before the Committee, Dr. Price said that "patients' lives are literally at risk" on account of the bidding program and noted that in rural areas, the new reimbursement rates don't even cover providers' costs in some cases. He also referenced significant losses in the number of HME providers in Georgia in recent years on account of the bidding program.
Subcommittee Chairman Pat Tiberi (R-Ohio) and Rep Vern Buchanan (R-Fla) also noted their support for the rural relief legislation. Playback the full hearing here (Dr. Price's testimony begins just after the 37:00 mark).
AAHomecare in Action
WASHINGTON, DC – Tom Ryan, president of AAHomecare, participated in a roundtable on regulatory fairness hosted by the U.S. Small Business Administration in Philadelphia…Kim Brummett, vice president of Regulatory Affairs, gave a Washington Update at the Maryland National Capitol Homecare Association's DME Conference…Brummett conducted a webinar on the HME Audit Key for mobility providers in concert with NCART… Mina Uehera, regulatory affairs manager, attended a House Ways & Means Committee hearing on Medicare legislation…Jay Witter, senior vice president of public policy, attended a reception for Rep Charles Boustany (R-La)…The Complex Rehab & Mobility Council convened… AAHomecare held a webinar on oxygen billing practices…