WASHINGTON, DC – AAHomecare officials continue to work with champions on Capitol Hill to advance HME policy priorities and increase chances to have provisions from HR 2771 and HR 4945 included in future omnibus legislative packages.
We urge providers, manufacturers, distributors, and other companies supporting the HME community to take action over the next few weeks to contact representatives in the House and ask for them to co-sponsor these bills.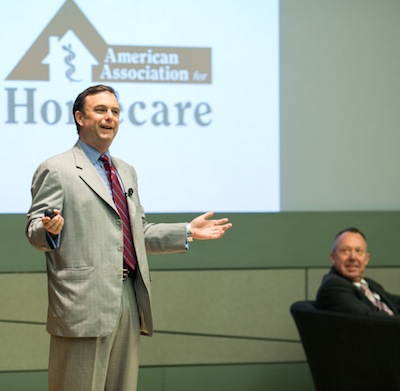 Non-Bid Area Relief & O2 Rural Reimbursement
HR 2771 – Protecting HOME Access Act of 2019
Current Co-Sponsors (72)
See our updated list of Reps. who co-sponsored rural relief legislation in the 115th Congress but are not yet co-sponsoring HR 2771; these should be top co-sponsor targets.
Keeping Non-Invasive Ventilators Out of Bidding Program
HR 4945 – SMART Act of 2019
Current Co-Sponsors (43)
See this updated list of Reps. who joined a sign-on letter asking CMS to reconsider plans to add NIV to the CB program but have not yet cosponsored for best targets.
Is Your Representative a Member of the House Energy & Commerce Committee?
Generating support from members of this committee of jurisdiction for Medicare financing-related issues is especially important, especially if your Representative is part of the Democratic majority. See a full list of Energy & Commerce Committee members, co-sponsorship status, and contact info for Legislative staff handling healthcare issues for these members here.
Here to Help
Please contact Ashley Plauche at ashleyp@aahomecare.org or Gordon Barnes at gordonb@aahomecare.org for contact information for House staffers who handle healthcare issues, help with messaging your requests or setting up a meeting, or any other assistance needed in making your contacts.  We would also like to hear about any agreements to co-sponsor, or any "no" responses, so our lobbying team can follow up.
OIG Market Shares Report for DTS
WASHINGTON, DC – Last week, the Department of Health & Human Services' Office of Inspector General (OIG) published a report titled, "Medicare Market Shares of Diabetes Test Strips From April Through June 2019." This report is intended to assist CMS with their requirements to:
1. award contracts to diabetes testing strips (DTS) suppliers who cover at least 50% (by volume) of the DTS types provided under Medicare; and
2. to use multiple market share data sources from both mail-order and non-mail-order Medicare markets.
For this report, the OIG selected 600 random claims and found that non-mail-order claims consisted of 85% of total Medicare market. DTS suppliers provided 25 types of DTS under non-mail order; 21 types under the National Mail-Order Program; and eight types in both markets.

The National Mail-Order Program has been put on hold since January 2019, and CMS has not announced yet whether the program will be included in competitive bidding Round 2021.
You can find the report here.