GOOSE CREEK, SC – Thelma Prial passed away on Monday, April 17. Many long-time Medtrade attendees knew Thelma, who was married to Shelly Prial, a legendary advocate in the HME industry. Shelly and Thelma were married for 67 years.
"Mom and Dad were truly inseparable in both their lives and their careers," wrote Pam Stein and Jon Prial, Thelma and Shelly's adult children. "From the pharmacies they ran to the home health care dealer co-operative they established, they made every decision as a team and they never disagreed on anything, according to Dad."


There are many wonderful stories about Thelma, and so many knew her far better than I. Shelly and Thelma invited me to breakfast on two occasions at Medtrade, and I quickly realized why Shelly adored Thelma so much. From then on, whenever I saw Thelma, I would ask her to say anything because I loved hearing her glorious Brooklyn accent.
I did a series of interviews with Shelly Prial, and during one of those interviews, I learned the story of how Thelma and Shelly met. You can read the original article. The following is an excerpt:
A year before graduation (1949), Shelly reluctantly agreed to go to a party that would change his life. "My best friend invited me and I said, 'No, I'm working tomorrow and Sunday,'" muses Shelly. "One of the reasons he invited me was because I had a green 1940 Buick Convertible with red leather seats. I finally said yes, so we went in my vehicle to this party. That's when I met Thelma, who's sorority was there. 

"I said, 'Let's stay a little later and help clean up," continues Shelly. "When we got back, I said, 'Stanley, I'm marrying Thelma.' He told me I was out of my mind, and I said, 'No, I'm serious.' We got married eight months later."
Christina Brown Morrison, Medtrade's director of Social Media, remembered Thelma fondly.
"I smile when I think of all the fond memories I was fortunate to share with Thelma and Shelly through my work with Medtrade over the past 5 years. I will never forget the first time I met her. I boarded a Southwest flight from Orlando to Las Vegas heading to my first Medtrade show. We all lived in Brevard County at the time. I walked on the plane and there they were sitting in the front row. They had a cozy middle seat between them. As soon as he recognized me walking on, I was quickly invited (ordered) to sit down in between the two of them.
"We talked and talked for five hours straight. Thelma shared many special stories about her family and their work together in the co-op and HME days. Shelly always reminded me that Thelma edited his articles to make him sound good and to keep him in line. No matter how she bragged about Shelly, he always pointed it back to her.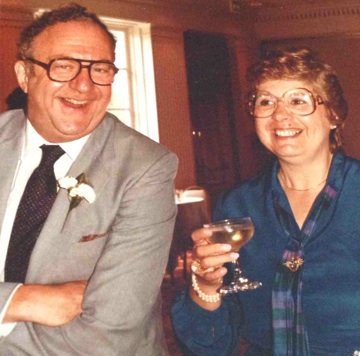 "Over the years, I was able to share more dinners and visits with them, even stopping in Goose Creek, South Carolina a few times with my husband. Thelma always made sure we had plenty of wine and a bowl of potato chips to snack on. She'd show pictures of their kids and grandchildren, filling us in on their latest achievements. She would tell Shelly that he needed to take it easy when he'd get fired up in a discussion with me on the state of the HME Industry.
"I will miss seeing her walking the floors of Medtrade, visiting the booths, and seeing some of the exhibitors trying to get her to switch out the Prial's home DME products for their brand. She would hang out in the show office most of the time, waiting for Shelly to finish working the floor. It was always a joy to walk back in the office to see her there to greet us with a big smile."
Kevin Gaffney, group show director, Medtrade, shared these memories of Thelma:
"Until Shelly's 'retirement' in 2015 as Medtrade's Ambassador, one of the joys of directing Medtrade was seeing Thelma Prial. No matter what was happening within the show, good or bad, Thelma was there with a smile and encouragement. It really meant a lot to see her there, year after year, supporting Shelly and the HME industry. Thelma would always echo Shelly's sentiment that folks need to get involved and support this great industry. The love that she and Shelly shared for so many years was truly inspiring, and certainly put the issues that HME has faced over the last 10 years in perspective. Rest in Peace, Dear Thelma. You will be missed."
I once asked Shelly, "What has been the secret to your happy life?" He immediately said, "I found a great woman." The last time I heard Thelma's unmistakable voice was during a phone call last year. She was sitting close to Shelly while we chatted. The topic of Thelma came up and Shelly said, "Thelma, when was the last time we said a cross word to each other?" Her one word response was "Neva…"
Donations to the American Red Cross can be made in Thelma's name.
Greg Thompson is editor of Medtrade Monday.