WASHINGTON, DC – The Virtual Washington Legislative Conference is Sept. 29, but the AAHomecare team will not be able to make new meeting requests after September 22, so register today to ensure the best meeting schedule possible.
AAHomecare will host an Issue Education and Training program on September 22 at 2:30pm (ET). This program will be recorded if you are not able to attend, but we do encourage everyone to participate to gain a full understanding of this year's new virtual format. Only Legislative Conference registrants who have filled out the conference survey will receive an invitation – please fill out the survey as soon as possible so the team will know which legislators to request meetings with. If you have registered for the Conference but need the survey link, contact Tilly Gambill, tillyg@aahomecare.org.
Please Note: Meetings cannot be scheduled until we have a completed survey. Meetings are made using your home and business addresses, however there is a place to add names of legislators you would also like to have meetings with.  You will receive your meeting schedule link from advocacyday@advocacyassociates.com.
The Washington Legislative Conference is your opportunity to tell Congress your role in the healthcare continuum – your value proposition has never been greater and the need for action on reimbursements and other HME policy priorities has never been greater. Register today!
VGM Heartland Conference Wraps In Waterloo
WATERLOO, IA – VGM's annual Heartland Conference celebrated its 20th event Sept. 13–15, 2021, by welcoming guests from across the country to its hometown of Waterloo, Iowa. The conference brings members of the HME community together each year for three days of networking and educational events.
Usually held in June, the conference was moved to September to help ensure the health and safety of everyone involved. Additional precautions taken included moving all social events to outdoor spaces, requiring masks while indoors, and running conference transportation at 75% capacity. The Heartland planning committee also established a well-trained COVID response team to help keep everyone safe.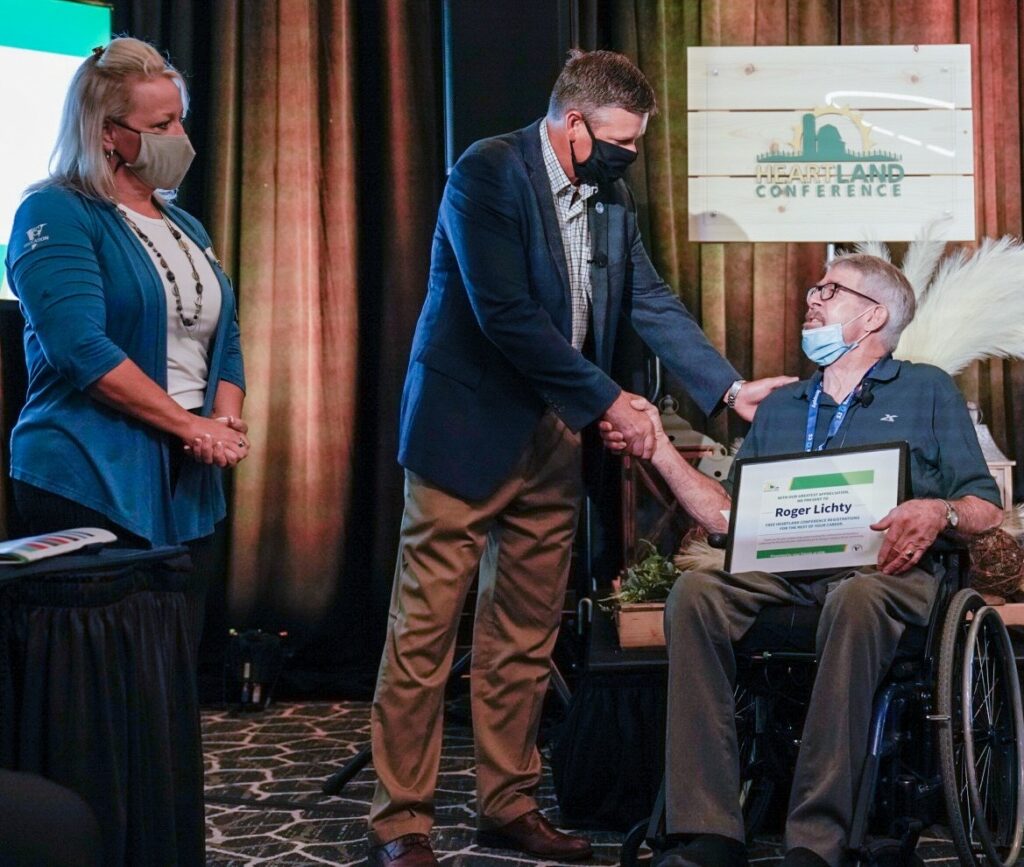 "As leaders in the health care industry, we wanted to do everything we could, taking all proper precautions, to help keep everyone safe during our time together," said Clint Geffert, president of VGM & Associates. "We know the past year and a half has provided numerous challenges and uncertainties, and we're honored to have the opportunity to bring everyone back together, safely."
Heartland also featured a virtual offering, Heartland At Home. VGM members were able to attend the conference exclusively through the virtual courses, which also were complimentary for those who attended in person.
"The HME community plays a vital role as part of the health care industry," said Jill Blaser, Heartland Conference co-chair. "Heartland offers top-of-the-line education designed to help HMEs take care of their business and, ultimately, their patients. That's why it's so important to us that our community members have those educational opportunities, no matter where they are."
While there were many changes to the Heartland conference this year, those who have attended in past years found plenty of the familiar Midwest hospitality. One such attendee was Roger Lichty, owner of Mobility Connection Inc. out of Rockford, Illinois, who has attended all 20 Heartland Conferences. Lichty was presented with a perfect attendance award to show VGM's appreciation for his dedication to Heartland and the HME community.
To further celebrate 20 years of Heartland, VGM continued its philanthropic efforts with the 200 for 20 charity event, where conference attendees nominate charities in their own communities. VGM then selected 20 of those charities to be awarded a $200 check.
"Heartland is more than an industry conference," Geffert said. "It's an opportunity for our members to get together and be part of something bigger. Whether they chose to attend in person or virtually, we hope they experienced all the magic that Heartland had to offer."
The Heartland Conference will return to Waterloo June 13–15, 2022.
HHS Announces $25.5B In New Provider Relief Funding and 60-Day Grace Period for Upcoming Reporting Deadline
WASHINGTON, DC – HHS announced last week that they will be disbursing the remaining $25.5B of the Provider Relief Fund. Of that, $8.5B will be allocated to American Rescue Plan (ARP) resources for rural providers and $17B will be available as a Phase 4 General Distribution funding which will be for a broader range of providers. Phase 4 funding will be for providers that experienced a major loss in revenue or increase in expenditures between July 2020-March 2021.  Phase 4 is intended to improve equity and will reimburse small suppliers at a higher rate compared to larger suppliers and will offer bonus payments based on the volume of Medicare, Medicaid, CHIP services the applicant provides. Applications for Phase 4 will open on September 29. As of this publication, it is not clear if DME suppliers qualify for Phase 4, but DME suppliers are listed as part of the definition of a "Provider."
In addition, HHS announced a 60-day grace period for the Period 1 reporting deadline. This reporting deadline of September 30, 2021, is only applicable for recipients that received $10,000 or more in aggregate from the Provider Relief Fund between April -June 2020. This 60-day grace period is not an extension, this just means HHS will hold off on any recoupment activities until after November 30, 2021. Recipients will be out of compliance if reports are not completed by September 30, but recipients will have until November 30 to come to compliance.