WASHINGTON, DC – Thanks to the persistent grassroots lobbying efforts of HME stakeholders nationwide, 65 members of the U.S. House from 29 states are currently on board as co-sponsors for H.R. 4229, the Protecting HOME Access Act of 2017. Is your member on the list of current co-sponsors?
Grassroots Email Tools Available
Please share our Action Center – action.aahomecare.org – with your friends, colleagues, or any other individuals who would be willing to weigh in on the issue.  In addition to the letter asking for co-sponsor support, we also have a letter suitable to send to Representatives who have already signed onto the bill.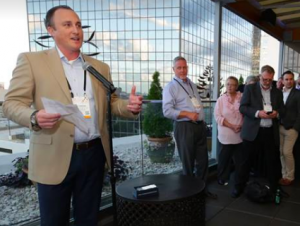 Get Social for HR 4229
Don't forget – you can also reach out to legislators on Facebook and Twitter to ask them to co-sponsor.  You can find Facebook and Twitter accounts directly listed for your Representative via our online Congressional directory here.  Social media is also a great place to publicly thank your Representatives for signing on.
Please make it a point to thank Members of Congress who have signed on to the legislation no matter what contact format you use!
"We Need Another Intense Level of Outreach"
Gary Sheehan, CEO of Cape Medical Supply (pictured) and a long-time leader in the Home Medical Equipment & Services Association of New England believes this effort could serve as the capstone for long-term efforts to build relationships and educate lawmakers in the region.
"With HR 4229, we are reaching out to let our partners in Congress know this is the final step to see action on the issues we have been discussing for a very long time, but most acutely over the last six months," notes Sheehan.  "We need another intense level of outreach from providers, particularly from members and leaders in their state & regional associations, who are already deeply engaged and have the relationships to assist with a much-needed tangible victory."
Please pass along any stories of how your outreach efforts are going, including any anecdotes about messages or materials that your Representatives or their staffers have found compelling – send your updates to Gordon Barnes at gordonb@aahomecare.org.
Additional Resources
Alex Azar Nominated as HHS Secretary
WASHINGTON, DC – On Monday, President Trump nominated Alex Azar as Secretary of the Dept. of Health & Human Services.  Azar had previously served as General Counsel and Deputy Secretary of HHS under President George W. Bush.  Following that, he was president of U.S. operations for Eli Lilly & Co. See yesterday's statement from AAHomecare on Azar's nomination here.