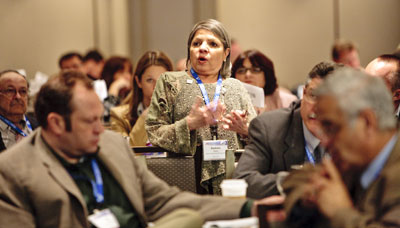 NEW YORK – Medtrade Monday received many comments about the passing of industry advocate Barbara Rogers. Rogers was an ardent proponent of the Margaret Pfrommer Memorial lecture at Chest (the conference of the American College of Chest Physicians).
Rogers gave the lecture there in 2010, and friends and supporters say she tried for years to get the lecture endowed, because she strongly believed that the patient's perspective was important for physicians to hear.
"We are trying to get her name added to the Pfrommer lecture, making it the Pfrommer/Rogers lecture," says friend and supporter Angela King. "I have sent a donation check, and a letter requesting that Barb's name be added to the lecture, to the Chest Foundation. This idea is fully supported by Dr. Allen Goldberg and his wife, Evi. Dr. Goldberg started the Pfrommer lecture, and he knew and loved Barbara. Barbara was my very best friend, and I want to do all I can to honor her."
For those who may wish to make a donation to Chest in Barbara's name, King and Rogers' supporters are asking that the donation include a note that the money be earmarked for the Pfrommer lecture, along with the suggestion to add Barbara's name, making it the Margaret Pfrommer/Barbara Rogers lecture.
For more about Barbara and her legacy, click here to see comments from her many friends and supporters.