WASHINGTON, DC – The extensive recall for a broad range of Philips ventilator and PAP devices presents challenges for HME suppliers, clinicians, caregivers, and millions of individuals who depend on these products. For many individuals on ventilators, these are literally life-support systems.
Respiratory suppliers in our industry have a long-standing record of providing a high level of service, support, and guidance to go along with these products, and I am sure many of you are frustrated that you can't assure your patients that there is a clear and quick path to getting the recalled equipment repaired or replaced.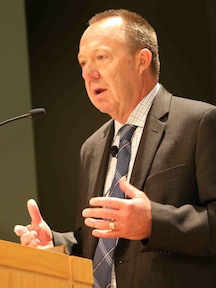 Philips and other respiratory stakeholders are working hard to address issues and impacts related to the recall. AAHomecare is engaged in this process by keeping the HME community informed of new developments and guidance, and also in working with Medicare and other payers to clarify billing and adherence requirements for your current patients.  We are also supporting industry efforts to have the FDA help prioritize respiratory manufacturers in the still-stressed global supply chain.
The supply chain issues underscore the need for policies that fully recognize how critical maintaining access to respiratory products and other HME are in managing care for millions of individuals with serious medical conditions. We are making strides in growing awareness of the integral role our industry plays in the care continuum, but that perception should be even stronger to support our advocacy priorities.
The HME community – and particularly respiratory suppliers – once again showed our willingness to rise up and "meet the moment" during the COVID-19 pandemic. Our work providing home-based respiratory support for acute conditions was shown to be effective and essential – and, as a result, CMS is proposing a revised oxygen NCD to allow this care on a permanent basis, as you'll see in another article below.
Our industry is built on providing high-quality care to seniors and other individuals who also benefit from the empathy and reassurance that is a hallmark of HME professionals. Respiratory suppliers, manufacturers, and other HME stakeholders are proven in their ability to deliver exceptional care and personal support under difficult circumstances.  I know that, once again, we'll show that we are made for this kind of challenge.
AAHomecare Pulls Together Recall Resources
AAHomecare is collecting news, guidance, and other materials related to the respiratory device recall.  The new online resource includes a link to Philips' recall page, the recent FDA Safety Communication, AAHomecare letters to DME MACs and major payers, along with webinars and other materials from respiratory clinician groups.  We will continue to keep this page updated with the latest developments on the recall.
Tom Ryan is president and CEO of the American Association for Homecare. On Wednesday, July 14, Ryan and the AAHomecare team will present the AAHomecare Update from 8:30 a.m. – 10:00 a.m. at Phoenix Convention Center during Medtrade West.