ATLANTA – It's hard to believe we're only weeks away from the annual voyage to Atlanta for Medtrade 2018. This will be my 21st Medtrade (16 with VGM), and each year the conference provides a platform for face-to-face discussion on today's legislative environment.
This year, I will be joining fellow DME advocates for a special session to discuss with attendees the most effective ways to build, improve, and sustain effective relationships with your legislators. Home Care Champions Unite! An Interactive Panel Discussion on Grassroots Best Practices and Other Ways to Be an Effective Local Lobbyist is slated for 4:00 p.m. on Tuesday, Oct 16, and is designed to provide effective tips to amplify your voice and our collective message for Congress to improve our health care system. After all, a united and steadfast effort is the most effective way for change.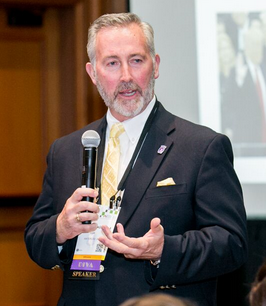 Although I thoroughly enjoy sharing my thoughts on how to combat burdensome and flawed laws, the conference offers so much more than discussing politics. Medtrade provides an atmosphere for our industry to gather and be introduced to innovative products, services, and business solutions all while sharing our wins, challenges, and opportunities.
For VGM, Medtrade is a familiar place for us to forge existing relationships and develop new ones. It's more than just our footprint on the showroom floor. It's our opportunity to connect with the community we serve and a stage to share VGM's breadth of programs for businesses dedicated to the industry and the customers we all serve.
As we look forward to our time at the Georgia World Congress Center, you should check out the cast of VGM presenters. Our team of experts will be leading 14 education sessions, a reimbursement workshop, and a number of interactive and hands-on discussions. We're even hosting an Audit Happy Hour. Who doesn't need a drink after thinking about audits?
Below are a few of the VGM-sponsored sessions. Click on these links for a complete list of Medtrade sessions and workshops.
HME Reimbursement: It's a New Frontier
Monday, Oct. 15, 9 a.m. – 3 p.m.
Speakers: Ronda Buhrmester, director of Reimbursement, VGM & Associates, and Dan Fedor, director of Reimbursement, U.S. Rehab
In this journey, your guides (Ronda and Dan) will take you into the new frontier and will ensure you are able to navigate the landscape to effectively get to your destination of being paid timely and accurately for the products and services you provide one way or another (third party payers or private pay). You will be lassoed into participating, so bring your posse with you.
Audit Happy Hour
Monday, Oct. 15, 5:30 – 6:45 p.m.
Speakers: Wayne van Halem, The van Halem Group; Kelly Grahovac, The van Halem Group; Denise Leard, Brown & Fortunato; Pam Colbert and/or Brad Howard, Brown & Fortunato
There's not much happiness when it comes to audits…unless you're figuring out how to navigate them. We're making it fun by giving you that opportunity and a chance to meet with experts at a relaxed networking reception. So, grab a glass of wine or beer, and meet with audit experts at this unique Q&A. Registration fee varies with time of registration. Advance registration required.
VGM-sponsored Rise and Retail…
Wednesday, Oct. 17, 7:30 – 9 a.m. – Breakfast Roundtables
Moderated by: Rob Baumhover, director, VGM Retail Services & Vendor Programs; Maria Markusen, director of Development, VGM Retail Services
At this delightful breakfast, attendees will have a chance to fill up on a mouth-watering, hearty breakfast AND fill their brains with the active ingredients that make up a successful retail operation. In this lively atmosphere, attendees will rotate between four roundtables to discuss marketing, employee training, products, and merchandising. Advance registration required.
Power Lunch
Wednesday, Oct. 17, 11:45 a.m. – 1:15 p.m. – Location TBD
Moderated by: RJ Meyer, Senior VP of Sales, VGM Group, Inc.
Real food for thought! Fuel up on lunch and information crucial to making your business survive and thrive. Fill your plate with a quick lunch, and head to your pre-selected table where the moderator will kick off your roundtable group discussion. Learn from experts, hear from your peers, and take back solutions to your office. Topics include: online marketing, retail, home accessibility, technology, CPAP resupply and compliance, leadership, managed care, cyber security/cyber liability, and audits. Seats fill up quickly, so register early! Advance registration required.
VGM's theme for Medtrade 2018 is Make a connection. Find an opportunity. As I remain "At Your Service," I look forward to seeing old friends and making new ones. If you haven't done so yet, please consider joining me and other peers in Atlanta from Oct. 15-17. Be sure to stop by and visit our team at booth #1627, so we can connect you to new opportunities for 2018 and beyond.
John Gallagher is vice president, VGM Government Relations, Waterloo, Iowa.
Register for Medtrade 2018.