ATLANTA – Ready for a one-two power punch? The Brightree Summit is back – bigger and better than ever—and once again held in conjunction with Medtrade so attendees can maximize their time and travel budgets to attend the two events together. Brightree is offering an early-bird registration price of $99 from now until Sept. 14 at 11:59 p.m. EST.
The 2018 Brightree Summit, Brightree's one-day user conference on Oct. 15 at the Omni Atlanta Hotel, showcases many of the products and services Brightree offers the HME industry. It's a great opportunity for HME providers to learn about process improvement, increased efficiency, and operational excellence.
Medtrade (medtrade.com) runs Oct.15-17, right around the corner at the Georgia World Congress Center in Atlanta. Attending the Brightree Summit, followed by two days at Medtrade, gives providers invaluable face-to-face networking and a chance to gain new inspiration and knowledge.
Recent Summit attendees had this to say:
"You can't beat the ability to learn about the newest features of Brightree all in one day.  Also networking with peers is always important." — Eric Schoenherr, operations manager, Kaup Pharmacy Inc.
 "I always learn about better use of the software, new options for our organization in an ever- changing industry, and watching all players within our industry morph into a new unit. Some making the necessary changes for survival and some leading the way." — Daniel DeSimone, president/CEO, Continued Care of LI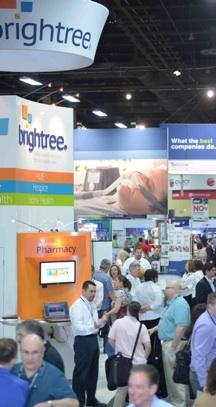 So what can you expect at the 2018 Brightree Summit?
This year's theme is Empowering Care. Yes, Brightree focuses on the business side of the house for HME providers, with technology and services to run operations efficiently, but boosting nearly every step in the HME process also empowers suppliers to provide the best care for patients. Simply put, Brightree delivers technology so providers can do more of what they do best.
Expect a variety of training, education, and consulting tracks covering ePurchasing, billing and A/R, patient collections, mobile delivery, and more—to help customers get the most out of Brightree.
Expect an all new Advanced Training track geared toward users with 2+ years of experience with the system. Session topics include Rules Engine, Productivity & Management, and Site Settings.
Expect Brightree customers to share their expertise and reveal their best practices in how to maximize results and be profitable.
Expect one-on-one Ask the Expert.
Back by popular demand—the Brightree tradeshow where attendees can get specific product questions answered.
A Networking Reception Event will take palce at the Omni Hotel from 5:00 p.m. – 7:00 p.m. The reception is open to all Brightree customers, even if they cannot attend the Summit. Those who register for the Summit automatically receive free access to the reception.
And that's not all. HME attendees can use Brightree's Summit Mobile App to access all the event information in one place using an Apple or Android device. Additionally, Brightree is offering an early-bird registration price of $99 from now until Sept. 14 at 11:59 p.m. EST. More information about the Summit, including the agenda and where to register, is available online at www.brightreesummit.com.