ATLANTA – The DME industry is at a critical juncture. It is dealing with the "perfect storm" of competitive bidding, the July 1 reimbursement cuts, and aggressive audits. Participating in this industry is not for the "faint of heart."
Suppliers must be competent and willing to push outside their comfort zone. With 78 million "Baby Boomers" retiring at the rate of 10,000 per day, the demand for what we have to offer will go through the roof. Somebody must take care of the DME needs of our aging population. That somebody is us.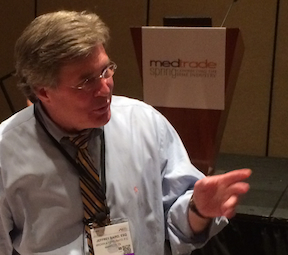 To meet this challenge, we need every tool at our disposal. The most important tool is knowledge. And this is where Medtrade comes in. Medtrade is the only "one stop shop" for DME suppliers. It is only at Medtrade that suppliers can (i) visit with hundreds of exhibitors (those businesses that serve DME suppliers), (ii) network with many other suppliers, and (iii) participate in multiple education forums.
As a member of the Medtrade Education Advisory Board ("EAB"), let me focus on the education forums. At the upcoming Medtrade, there are seven main education tracks: Retail, Sales & Marketing; Strategic Planning; Executive Leadership; Audits; Business Operations; and Keeping it Legal. The two main focuses of the education programs are (i) to give suppliers practical tools to respond to competitive bidding, audits and reimbursement cuts, and (ii) to help suppliers "think outside the box" as they plan for the future.
Suppliers do not have the luxury of wasting time and money. They do not have time for "cotton candy." At Medtrade, suppliers need "meat and potatoes." They need unvarnished substantive information that will help them navigate the challenges that are in front of them.
In short, when an attendee leaves an education session, he/she needs to be worn out. The education needs of suppliers will be met at Medtrade in different ways: (i) there will be the standard classroom where the presenter will lecture to the audience; (ii) there will an audit happy hour and a power lunch where suppliers can have in-depth discussions with experts in the fields of audits, competitive bidding, and retail sales; and (iii) there will be interactive panel discussions.
While Medtrade will be enjoyable (receptions, Stand Up For Homecare, etc.), having fun will be only a small part of the equation. The biggest part of the equation will the knowledge that suppliers will gain. As stated in the title, Medtrade is for serious suppliers.
Jeffrey S. Baird, JD, is chairman of the Health Care Group at Brown & Fortunato, PC, a law firm based in Amarillo, Texas.