LAS VEGAS – Medtrade is in the books, and we are reading comments and evaluating the show. With so many changes happening in the industry, the show floor often buzzed with optimism—and some frustration.
"For us, this show has been about retention and gaining new customers," said Scott Williams, vice president of Key Accounts, Drew Shoe Corp, Lancaster, Ohio. "The HME segment is important to us, and Medicare business is important. I can't get to everyone out in the field, so here at Medtrade the field comes to me."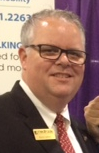 Williams' comments echoed a familiar theme, with many exhibitors commenting on the quality of the attendees, as well as the invaluable opportunity to meet face to face with customers.
As we head into the final month and a half of 2016, plenty of providers are now making plans to attend Medtrade Spring in 2017. The Las Vegas version of the premiere HME-focused event takes place Feb 27-March 1, 2017, in its familiar home at the Mandalay Bay Convention Center.
Early registration for Medtrade Spring is NOW OPEN, and that means you can save money if you register in the early window. If you're on the west coast, or anywhere else, we hope you'll consider making the trip.
Co-Location with Environments for Aging Expo
Medtrade Spring 2017 will co-locate with the 2017 Environments for Aging Expo & Conference (EFA), offering exposure to even more products and knowledge. 

Emerald Expositions, the producer of Medtrade and Medtrade Spring, also produces EFA.
Under the new arrangement, the events will take place side by side, from Feb 28–March 1, 2017, at the Mandalay Bay Convention Center in Las Vegas, Nev.

There is a great deal of crossover appeal for attendees at both of these shows. This agreement makes sense, and it will bring value to exhibitors and attendees at both shows.
Anyone who attends this co-location next year will truly see the full scope of exciting products and services for our aging population." 

The Environments for Aging Expo & Conference (EFA) offers the latest strategies for creating functional and attractive living environments that meet the needs of an aging population.
EFA is a comprehensive three-day learning experience, where attendees can network with peers and learn about the latest innovations in senior-friendly design for long-term and residential care settings.


Click Here, or copy and paste the the link below to register for Medtrade Spring.

https://registration.experientevent.com/ShowMTH172/?flowcode=attendee&SOURCE=MTMON