WASHINGTON, DC – With Congress in DC for just a week before they recess again for Thanksgiving next week, AAHomecare's Tom Ryan and Jay Witter, along with VGM's John Gallagher, hit Capitol Hill last week with a packed schedule of meetings with key members of Congress and staff, including Sens. John Thune (R-S.D.), Orrin Hatch (R-Utah), and Chuck Grassley (R-Iowa), as well as Reps. Tom Price (R-Ga.), Cathy McMorris-Rodgers (R-Wash.), Kristi Noem (R-S.D.) and Rod Blum (R-Iowa).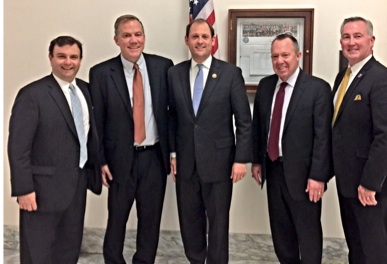 On Wednesday, the group joined Thad Connally of First Choice Medical for several meetings with members of the Kentucky delegation, including Senate Majority Leader Mitch McConnell, Sen. Rand Paul (top photo), and Reps. Hal Rogers (Chairman of the Appropriations Committee), Andy Barr (at left), and Brett Guthrie (pictured below).
While the meetings helped reaffirm the significant interest that that our champions have in helping bring the House and Senate together on a single legislative approach, additional grassroots support is needed to help make it clear that the home medical equipment community is united and vocal in asking for action in the lame duck session. Click Here for last week's AAHomecare in Action for guidance on contacting your legislators.
In addition, please be sure to share the People for Quality Care resource with your patients and their caregivers who want to lend their voice to advocacy efforts by telling their own stories or contacting Congress.
While Congress could be in session as late as Dec. 16, some Hill veterans believe they could recess by Dec. 9 – so the time for action is now.
HME Audit Key 3rd Quarter Data Submission Underway – Three Days Left to Submit Data
WASHINGTON, DC – Friday, November 18 is the last day to submit the HME Audit Key 3rd quarter data. Suppliers can go to HMEAuditKey.org to register; participation is free – you just need one of your organization's NPIs and respective 5-digit zip code to register and get started. If you have already registered or have begun your survey, we encourage you to complete the data submission process so your information can be included in the aggregate data.
For those of you who have not yet delved into the system, please be assured that the Audit Key does not require you to submit data on individual claims, but instead seeks cumulative counts of pre- and post-payment audits and appeal claim outcomes under DME MAC, RAC and SMRC reviews.
Data Security Assured: Your company's individual information will never be shared, but will be included in the aggregate data.